Home
2012 Archives
November Meeting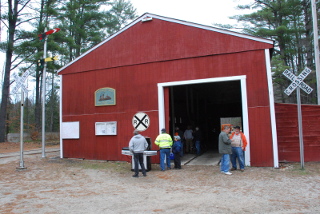 (11/11/2012) Last meeting of the year. After the meeting, Bill fired up the grill to cook up the rest of the sausages, while other members took down the signs and prepared for the winter months. Several members brought trackcars and were headed on the line. It was only 45 degrees, and overcast, but it would the sun would come out and warm up the area later in the day. (JWM)
Family Fun at Fernald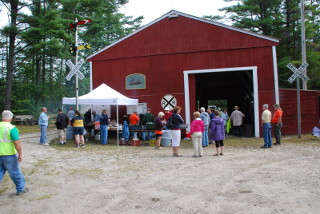 (9/9/2012) Although the day started chilly and drizzly for some members, the sun came out for a great "Family Day" at the Fernald Enginehouse. Nearly 80 members and family guests enjoyed hamburgers, hotdogs, and sausages, plus a variety of side dishes and desserts. Motorcars traveled both directions enjoying the late summer foliage. (JWM)
Another... Day Out With Thomas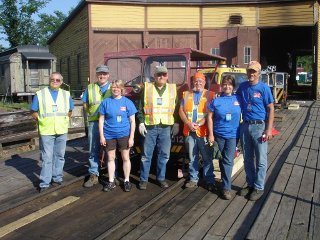 (7/15/2012) Jon reports that the second weekend of A Day Out With Thomas was another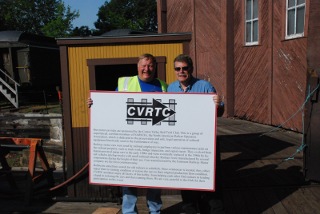 success. North Conway was sunny with temps in the 90s all three days. Our trackcars were a great hit with kids of all ages. On Friday night, the group traveled "east" to the end of track in Conway, rare mileage not typically covered during our excursions.

To the left, is Leroy, Jon, Missy, Keith, Gator, Linda and John posing before the day began on Friday. Over the weekend they were joined by Cullen, Conner, Dave M., Dick and Brian. Special thanks to Leroy and his wife Sharon who worked an extra day when another member backed out. To the right, Dave and Paul pose with the new sign that described our trackcars and their place in railroad history. Paul was very appreciative of our efforts, stopping to thank everyone as we loaded up Sunday. Conway Scenic runs a great operation, and it's nice to be part of it.

Thomas is a really useful engine, and we're already looking forward to seeing him coming all the way from Sodor to help out next summer in North Conway.(JWM)

Day Out With Thomas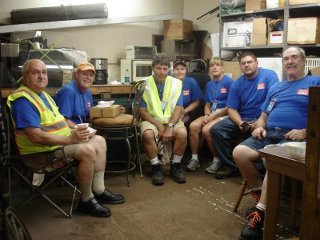 (7/10/2012) Dave reports that the first week of A Day Out With Thomas was a little slower than in the past. Of the three days Friday was the busiest and the hottest. Weather wise, Sunday was the best of the three days with a nice cool breeze blowing most of the day.Everybody had a good time and we had no mechanical problems over the weekend. On Friday and Saturday we all took our motorcars to Conway after Thomas was done for the day.

To the left,

the group takes their lunch break on Saturday above the carpenters shop in the back of the engine house. Seated from left to right are Russ Hoyt, Frank Judge, Dennis Heffernan, Stacie Kerrigan, Shelly Catanesye, Peter Legare, and Bill Catanesye. Also helping me out this week was Dick Forde, Gene Kelley, David Maher, Brad Morrill, John Turman, and Norman Yeaton.



Once again, Thank You to all who helped last weekend and for the group that will be coming up for the second week. (JWM)

July Meeting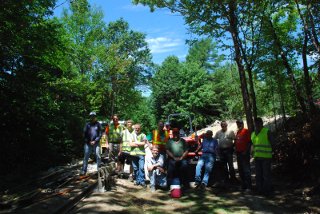 (7/8/2012) Twenty-five members were out and about on the Wolfeboro and Ossipee lines. After a brief meeting at Fernald Station, three motorcars headed East to the Miss Wakefield Diner. They reached the end of track just as the track crew was finishing up. Jon, James and Frank became the first three motorcars to cross the newly installed and ballasted rails. This has been an important project for the Club, and many members have pulled together, sometimes on short notice, to get this job done.

On the return trip, the group met with Jessie at Cotton Valley. After running on the Wolfeboro line, the Frank and James went up to run the Ossipee Line. More details expected... (JWM)

Replacing the Rail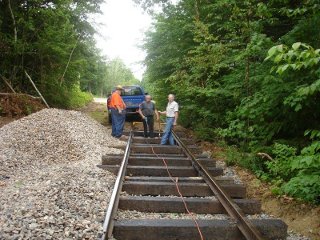 (6/29/2012) Arthur, Leroy and his visiting friend Bob, and Dave, went up early this Friday and have just about finished aligning, and spiking the rails to the ties. They ran out of gas and decided to call it a day before somebody got hurt. There are only nine ties that need to be spiked and they are all pre-drilled with the spikes started in the holes. After that is done the club just has to put the ballast down and the line will be fully open again. Club members have really been working hard on this project, and it good to see it coming to conclusion! (JWM)

New Setoffs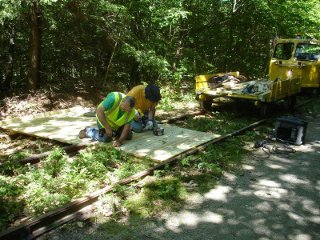 (6/14/2012) Dave reports that some of the

Thursday Gang

went out on Thursday (of course) and did some work on the Wolfeboro line. Don mowed and weed whacked Cotton Junction and Leroy, Dennis, and Dave built a new set off. The set off is just past mile post 4 right after the tennis courts. Last week Ron, Tiny, and Dave also built a new set off at Moxie Junction. Per Ron's plan's, we are going to add two more set off's at the end of the line by the Miss Wakefield diner when the work is done on the pollution area. If anybody is interested in helping out, give Dave a shout.

(JWM)
Wolfboro Trail Work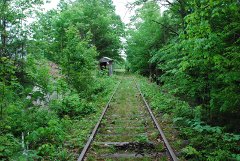 (5/25/2012) Bruce

wants to thank Ian, Jon, Leroy and his Grandson along with Tiny for all the help this morning. We were able to de-spike, remove joint bars and bar over the rail to the ctr of the roadbed. All that's left now is to drag the two lengths down from the site area and we should be in good shape. If someone could could bring the tractor over this weekend and carefully drag the rails down, that would be a big help. Just e-mail me. I'd like to have everything completed before they start on Tues. Thanks again for everyone's input!

Jon's picture shows the "Men In Yellow" as they survey the work site. In the background one of New Hampshire Northcoast's frieght trains rumbled by, reminding us that less than a mile away was an active shortline railroad. Just to the left, is a former gas station, now a soil remediation project.

(JWM)
May Membership Meeting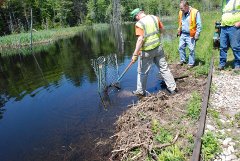 (5/20/2012) Whether you went to the Miss Wakefield Diner for breakfast, or headed out after the meeting for lunch, it was a great day to be working on the rails. A total of 29 members and guests were in attendance, and ten trackcars. Generally, the line was in good condition; some branches needed to be trimmed to avoid hitting the cars, and one leaning birch tree required a chainsaw. Next month, we'll be working out on the line installing new setoffs. All the new locks were installed, make sure you have a new

green

key. The key will unlock the switches, and the enginehouse and tool storage cabinets. Speaking of tools... if you're using any of the hand tools or power tools... in the interest of safety, check them before use and make sure any damage gets reported so they can be repaired. And put them back so the next gandydancer can find them! In today's picture, David catches the group in action as they cleared some debris away from one of the culverts hoping to drain the beaver pond just a little bit lower.

(JWM)



Crawford Notch Excursion

(May 5, 2012) 58 members and guests, and 25 motorcars were in attendance for today's excursion. The sky was overcast as the group seton, but the clouds broke and the group enjoyed a mostly sunny day, with some brisk wind up above Crawford Notch. The group traveled nearly 90 miles round trip between Redstone and Hazens. This trip was made possible by the Club members that helped out at last year's Thomas the Tank Engine events. See our events page for this year's schedule.





Jessie supplies the picture to the left, taken while the group stopped at the location of the former

Mt Willard section house

.

(JWM)

New England Southern Work Ride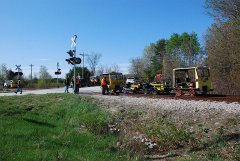 (April 28, 2012) Eight motorcars, and fourteen members and guests set-on in East Concord for this year's first work ride on the New England Southern. After our safety meeting, the group proceeded north to Canturbury, where we took the siding allowing the northbound frieght train to overtake us on their way to Tilton. The group stopped in the Northfield Yard for lunch, then with the train on it's way to Meridith, proceeded as far as the Lochmere siding, clearing lineside brush, and proactively cutting several dead and leaning trees. Round-trip, the group travelled about 40 miles, enjoying a great day on the rails.

(JWM)



April Membership Meeting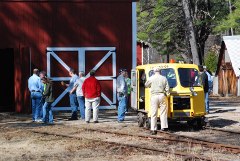 (April 8, 2012) Good turnout for the first meeting at Fernald Station. Thirty members and guests were in attendance. After the meeting several members headed out on the line, while others cleaned up around the enginehouse.

To the left... members catch up before the meeting begins.

(JWM)
Annual Business Meeting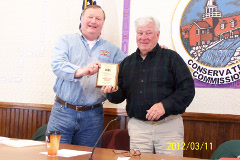 (March 11, 2012) This year's Annual Business Meeting was today. 35 members were in attendance. After the the election of officers and directors for the coming year, a number of issues were discussed, with the major topic of discussion being Insurance. Ron is shown receiving a plaque of appreciation from the Conway Scenic RR for the CVRTC support of their annual Thomas Days event. The Club thanks the Conway Scenic RR for their recognition of our contribution toward making Thomas Days a success. Dave, our Conway Scenic Event coordinator, is shown making the presentation.

Our next meeting will be held on April 15, in Wolfeboro at Fernald Station. Jessie captures the moment in his photo to the left; Roy snapped a picture of Dave and Ron with the CSRR plaque on the right.

(JWM)
Happy New Year!
(February 21, 2012) Seems like we're on the eve of a new trackcar season. Roy has sent out membership applications... mine sits unopened in my Inbox; Ian, Dick and Dan are discussing how much snow might be remaining on the Wolfeboro Line. Roy and Sean have been working to draft up definitions of what trackcars are, and your webmaster has been busy skiing. Yes, the ski mountains have snow! Stay tuned, as the details of the annual business meeting will be announced soon.
(JWM)
See the archives for postings from 2003, 2004, 2005, 2006, 2007, 2008, 2009, 2010 and 2011.
---
CVRTC, Inc.
P.O. Box 417
Wolfeboro Falls, NH 03896