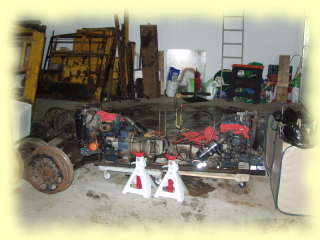 (Feb 13, 2008) There's still a bunch of snow covering the railhead, but some members have been hard at work with their winter projects. Ian has been working on newly designed booklet with all the Club rules, State and Federal laws, and trackcharts. This will be published in the same style as the old railroad timetables.
Bill and Harvey, (well, mostly Bill) have been working on the diesel powered MT14s. They have them stripped down, and ready for sandblasting. The frames have been straightened and welded, and the fuel injectors are being rebuilt for top performance. The picture to the left, shows the Kubota motors mounted to the Fairmont transmissions. The second MT14 is owned by Bill and Shelly Catansse.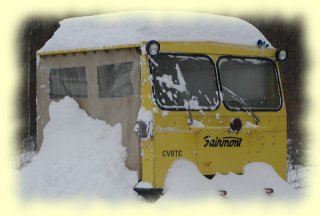 Jon, on the other hand, was totally caught off guard by the early snow fall in December, and never got the tarps over TC-42. So it sits neglected, buried in snow, awaiting a spring thaw!
The Club's annual meeting is coming up in March. Check back for meeting location and time. We'll be electing Officers and Directors. Membership applications should have been sent out to all current members; contact Roy if you didn't get yours, or click on the "Membership" link and download the forms. (JWM)