Cotton Valley Rail Trail Club, Inc.

Established in 1992
NARCOA Affiliate Club since 2014

LEGAL NOTICE: Operation of railway equipment, including motorcars, is governed by Federal, State and Railroad authorities. All rail property is owned by someone. Operation of any equipment on or around railroad property is only permitted with permission of the property owner or leasor. CVRTC will assist local, State, and Federal authorities in prosecuting illegal operators of railway equipment. Railway motorcar organizations now exist in most parts of the world. Please contact one of your local organizations. They have access to rail property, equipment information and SAFETY information. They are always looking to promote the hobby/sport and would love to have your help.

The Cotton Valley Rail Trail Club is an association of railway motorcar enthusiasts dedicated to preserving motorcar history and right-of-way maintenance through active operation and stewardship.
---
Seashore Trolley Museum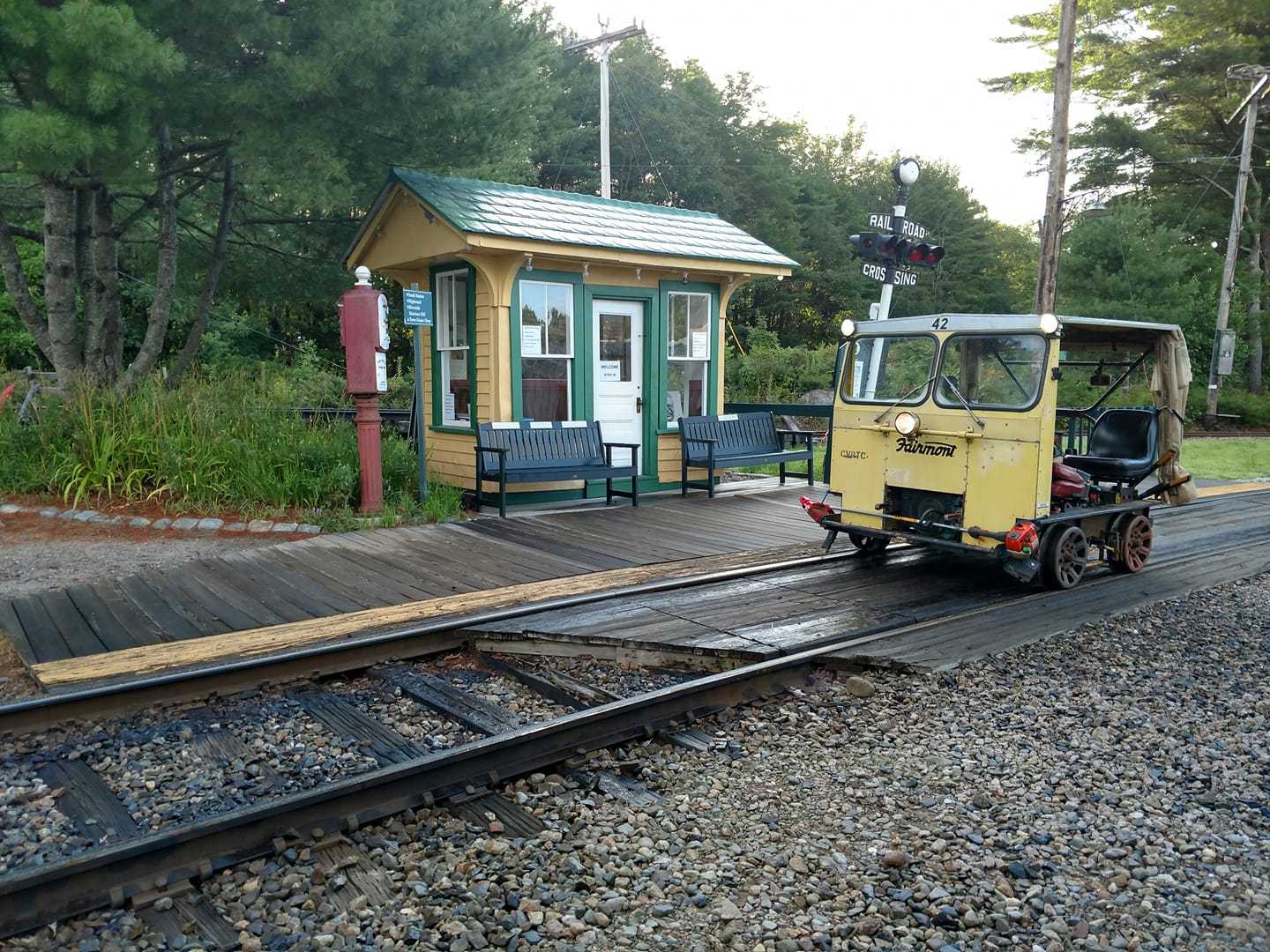 (9 August 2019) Jon headed over for another productive day cutting back brush at the Seashore Trolley Museum. At this point, we're no cutting stuff that was hitting the finely restored trolleys, but we're improving sight lines, and clearing around platforms, trolley poles, and catenary supports.

In the picture, TC-42 has stopped at "Morrison Hill", and Jon will grab the "Orange Work Paddle" before heading out on the mainline. They've got a pretty simple, but effective system. The next trolley out will see that the work paddle is missing, so they'll expect to find someone on the line. Jon will also put his sweeps down before continuing. He's found that if the sweeps are down in the Vistor Center area, they pick up grease and plow the pea-stone ballast in the walking areas.

Interested in helping out... get in touch with Jon and he can provide more details. (JWM)
Seashore Trolley Museum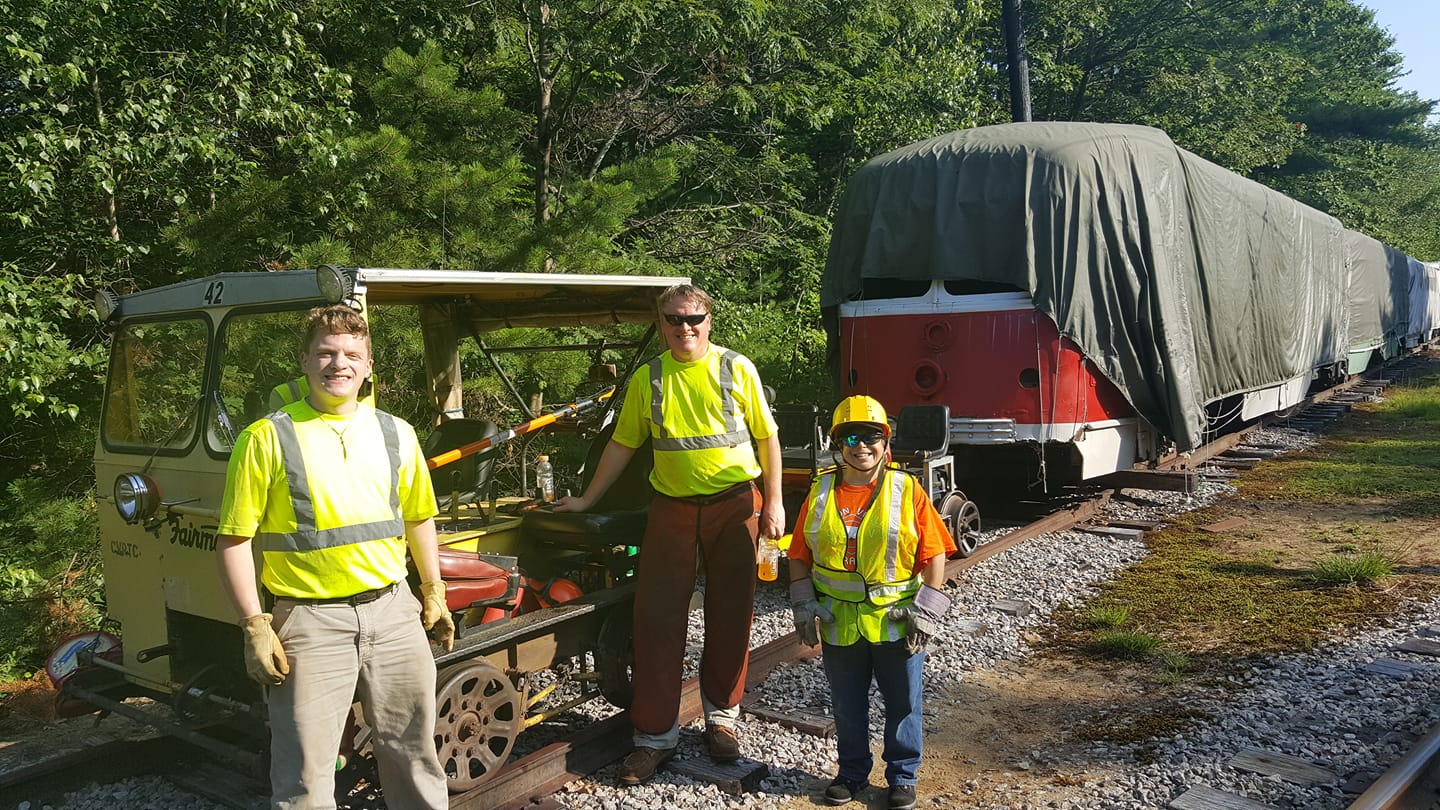 (28 July 2019) Big crew today! Jon and David were joined by Hank and Lili, as well as Bill. Bill also works in the Museum's Restoration Shop. Thanks to Hank for taking the picture, as we sit on the Biddeford track with some old PCC cars. (JWM)
July Meeting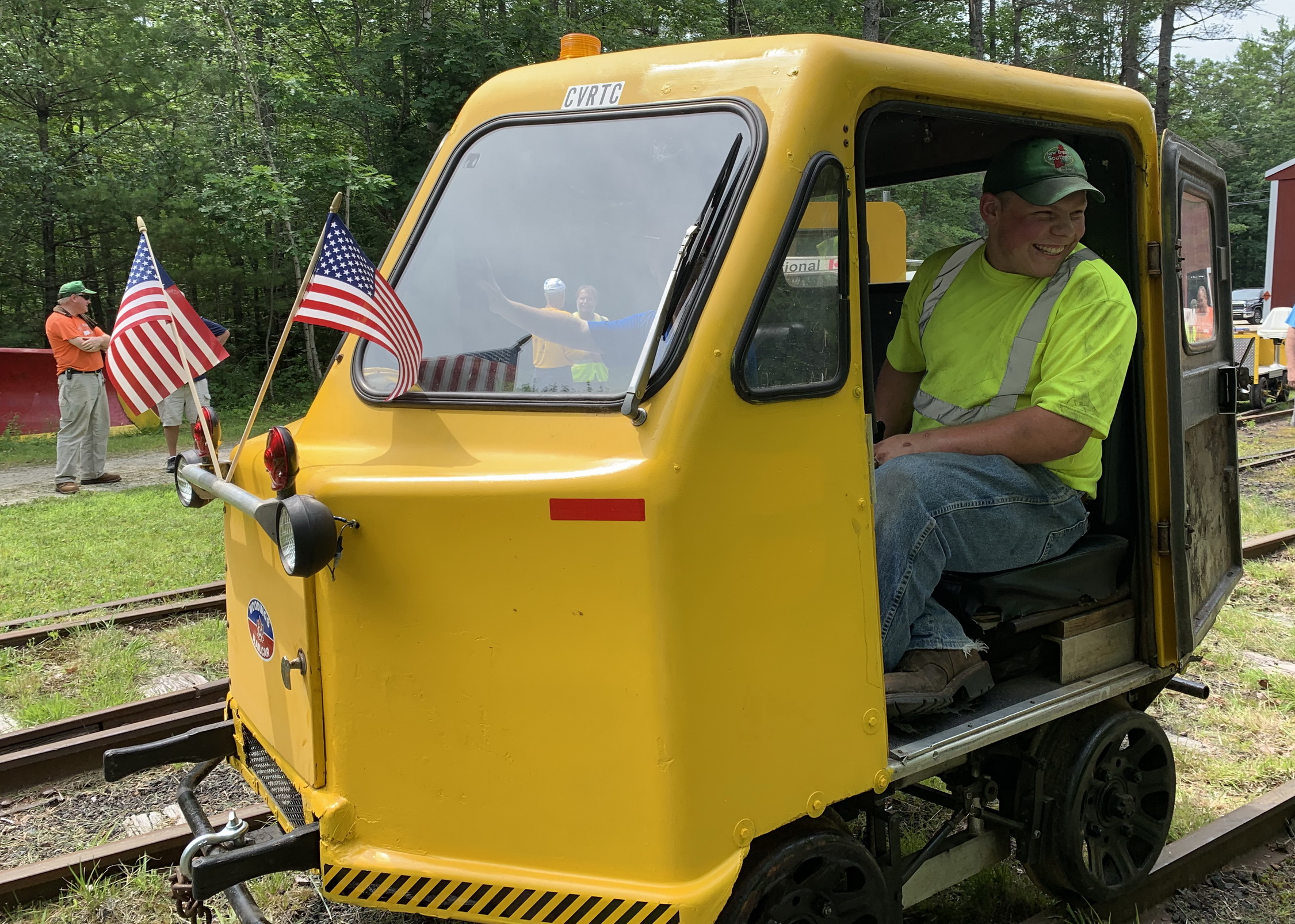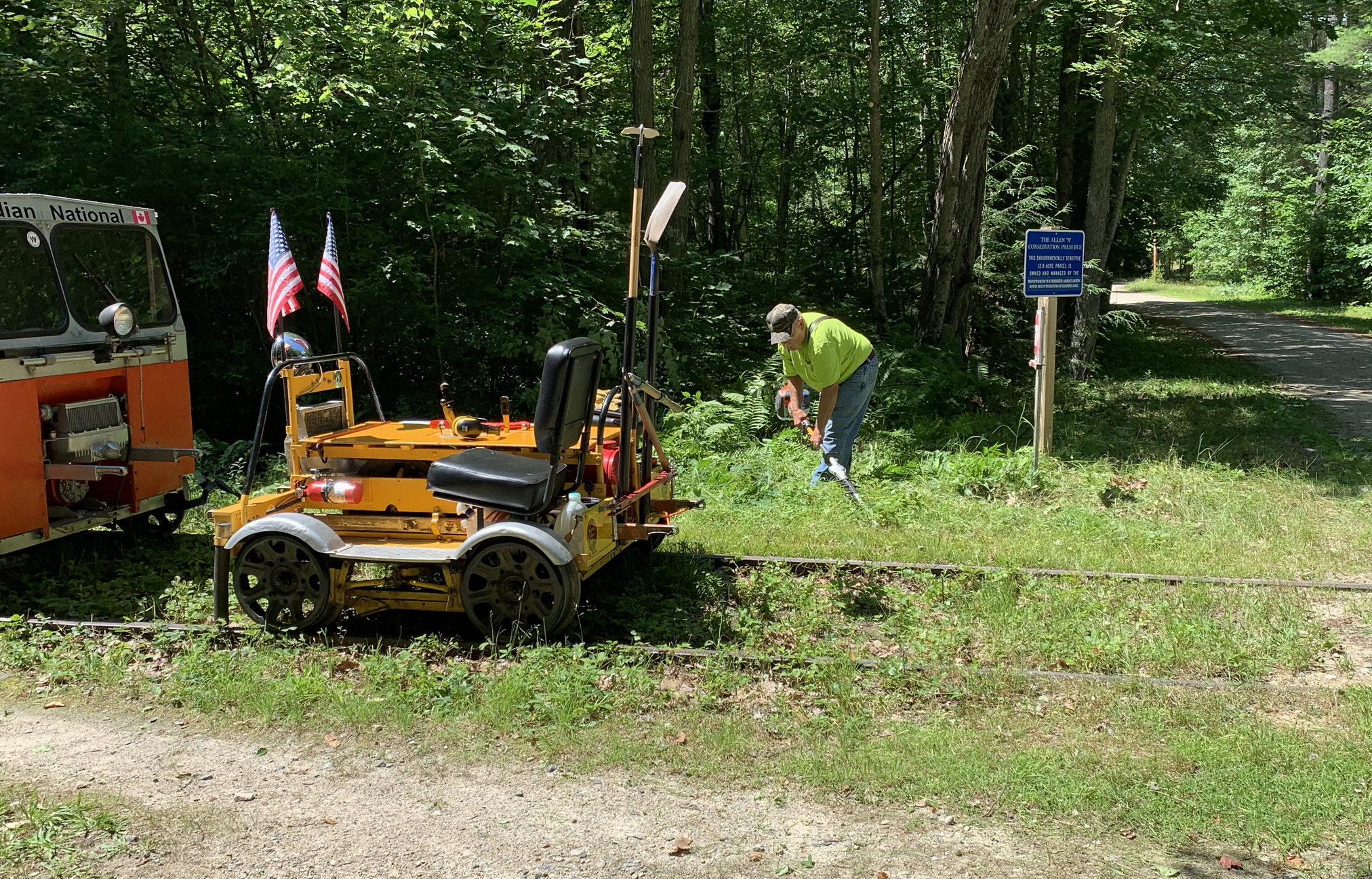 (20 July 2019) The monthly business meeting started at 10:00 AM. Bruce and Jesse covered NHOHVA status, Fernald's need for a new roof and the work needed for the new sickle bar on the club tractor. After the business meeting some club members went east and some west to improve the sight lines at the crossings.

Photo Left: As the new owner of a Woodings CBI, one of our newest members (and among the youngest), Hayden takes a spin in his first motorcar. The smile says it all! Photo Right: Tommy wields the cutter at a crossing west of Fernald. (SPM)
Seashore Trolley Museum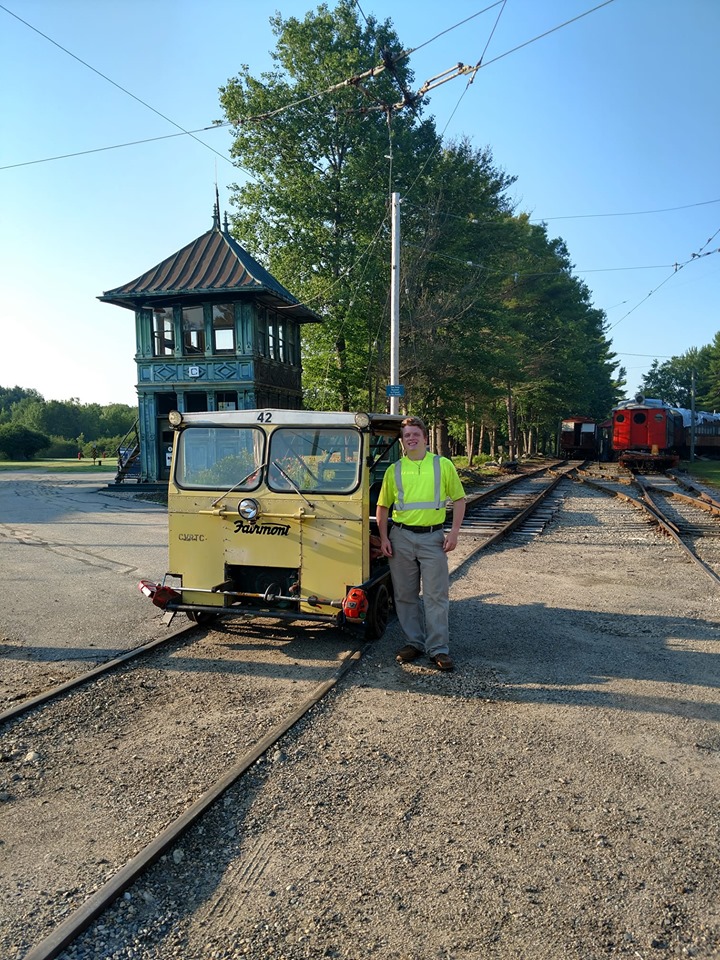 (14 July 2019) On Sunday, Jon and David headed over for another early morning. Repeating what worked before, they got two hours of cutting done, before meeting the Inspection Crew at Talbott Park. David learned how to apply grease to the insides of the trolley rail. After following the trolley back and setting-off, the guys rode the first revenue run and chatted with the crew about future cutting.

Pictured; David stands next to TC-42 at the Library Crossing, in front of Tower C. (JWM)
More...
See the archives for postings from 2003, 2004, 2005, 2006, 2007, 2008, 2009, 2010, 2011, 2012, 2013, 2014, 2015, 2016, 2017, 2018 and 2019
---
CVRTC, Inc.
P.O. Box 417
Wolfeboro Falls, NH 03896