Cotton Valley Rail Trail Club, Inc.

Established in 1992
NARCOA Affiliate Club since 2014

LEGAL NOTICE: Operation of railway equipment, including motorcars, is governed by Federal, State and Railroad authorities. All rail property is owned by someone. Operation of any equipment on or around railroad property is only permitted with permission of the property owner or leasor. CVRTC will assist local, State, and Federal authorities in prosecuting illegal operators of railway equipment. Railway motorcar organizations now exist in most parts of the world. Please contact one of your local organizations. They have access to rail property, equipment information and SAFETY information. They are always looking to promote the hobby/sport and would love to have your help.

The Cotton Valley Rail Trail Club is an association of railway motorcar owners dedicated to performing volunteer right-of-way and rail trail maintenance in New England.
---
September Meeting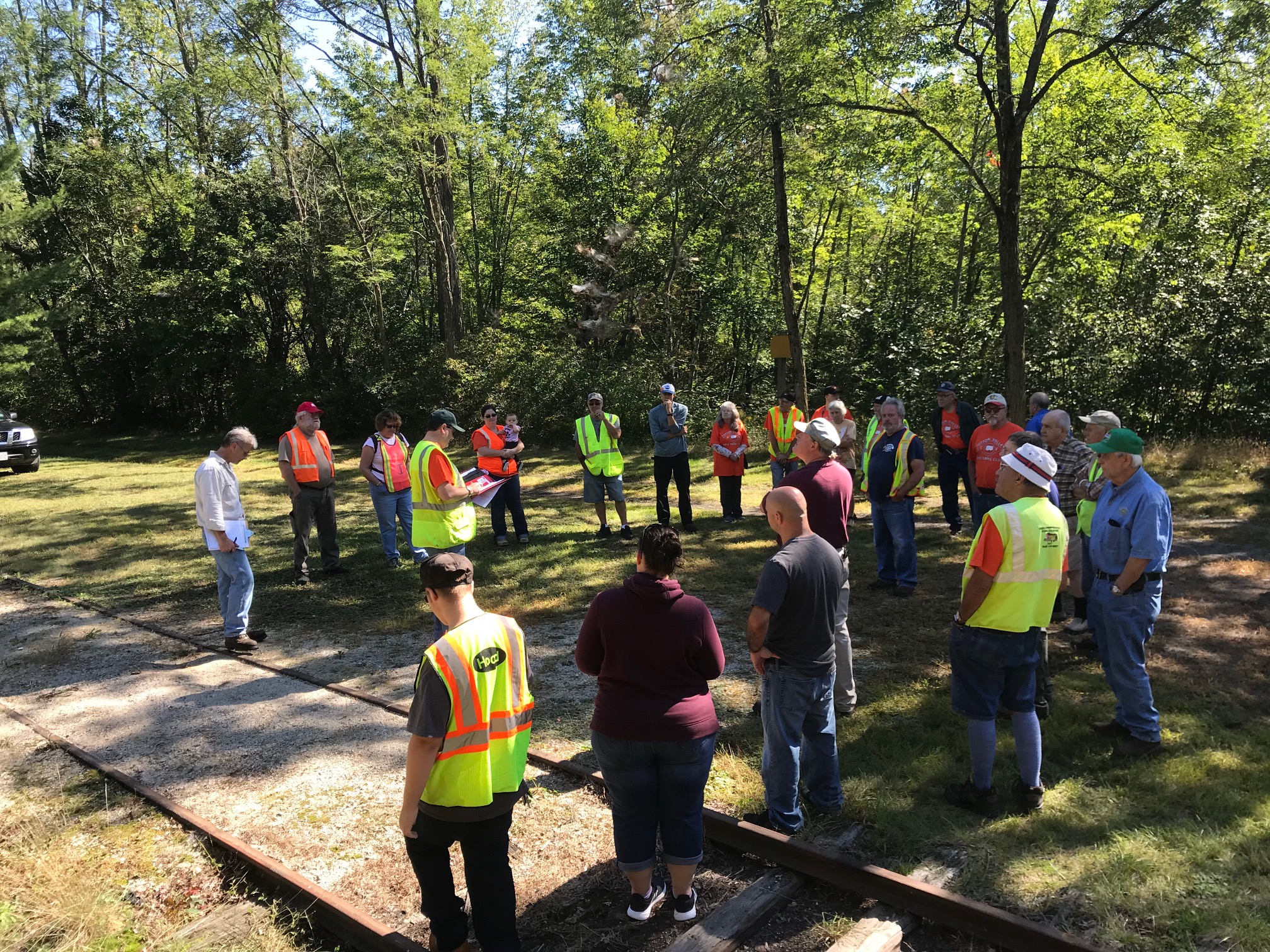 (15 September 2018) Great day for a meeting, especally when your office has four wheels and a wide open view of New Hampshire. Today's meeting was hosted by the Silver Lake Railroad; big thanks to Neil and Bruce for putting this together. To the left, Jesse's picture shows the group during our morning Safety Briefing. Bruce went over the condition of the line, and noted the one dirt crossing that operators had to pay attention to. The line had been mowed earlier this week, and we had already run a track patrol this morning! Members got to make several round-trips between the Siler Lake depot and Boulder Road. The Club will be working with the local snowmobile club to open up more of the line for trackcars. (JWM)
September Meeting
(12 September 2018) The regular monthly meeting is being held this Saturday at 10 AM at the Silver Lake Railroad which is in Madison New Hampshire, many of you probably are familiar with it. If you were not it is also on the Ossipee branch but further north. If you were new to the club with the area put this address in your GPS. 1381 Village Rd, Madison, New Hampshire 03875 (JWM)
Successful Open House at Fernald Station
(18 August 2018)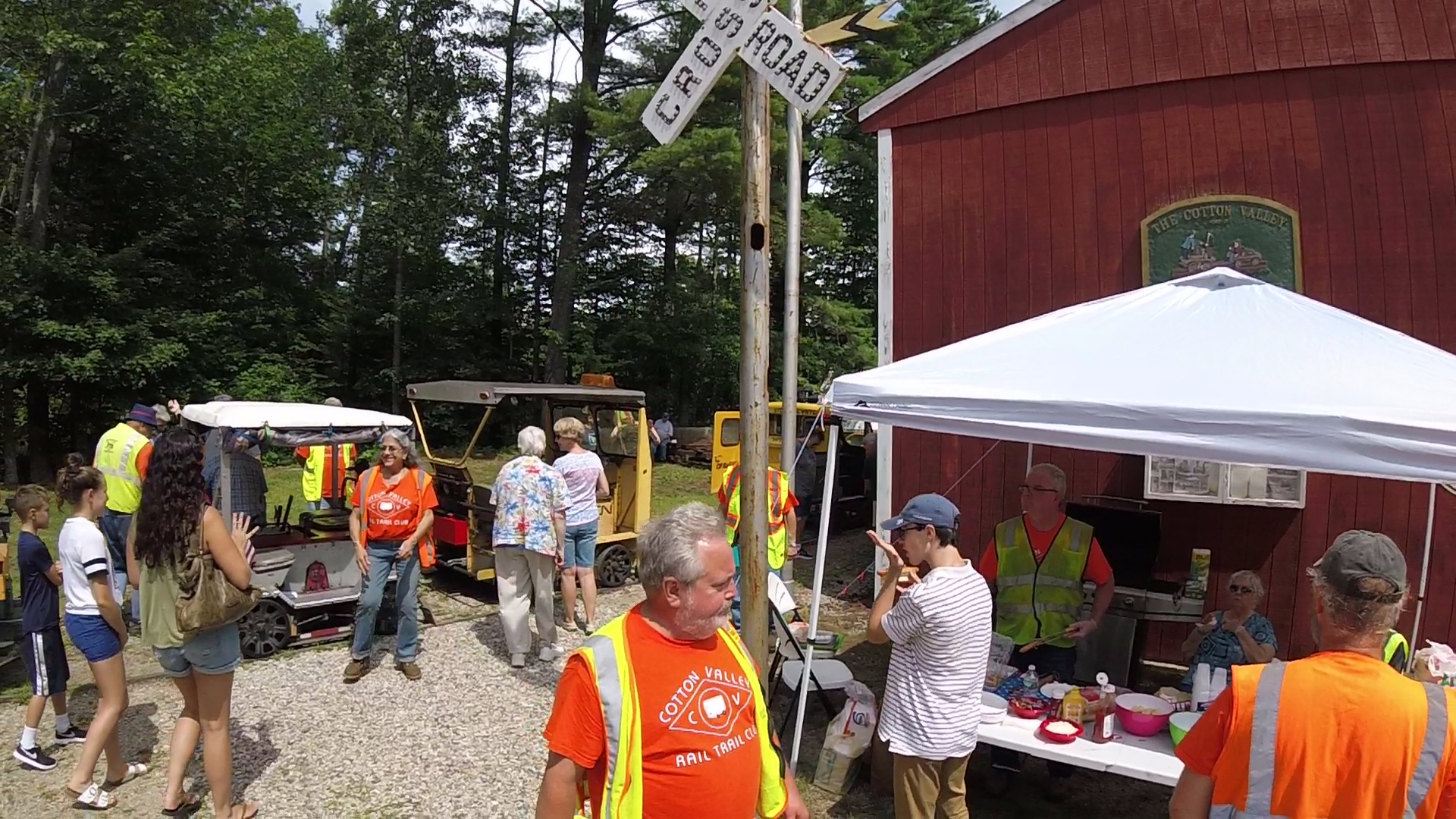 We had a great day on the rails Saturday! The club had a blast hosting its Open House for the third year in a row. So many smiling faces on both young and old! Thank you to all the club members for making it a great event for those that attended. Dave did a fantastic job keeping us all in sync in a safe manner and the whole operation ran very smoothly. Thank you to the car operators, exhibit work in Fernald, release and tickets, concession and crowd control. An additional thank you to those who helped expand the food offerings, awesome! I also observed many of you in great conversations with our guests. I am sure the community appreciated our efforts so lets keep it growing. These neighbors gave us a great reason to share our passion for railroad history. The weather held for our 160+ riders, most of which were new to motorcars but on the other hand I spoke with a few people who have ridden with us for many years too! Always a fun time at CVRTC. Thank you all! (SPM)
NEGS Work Ride
(11 August 2018)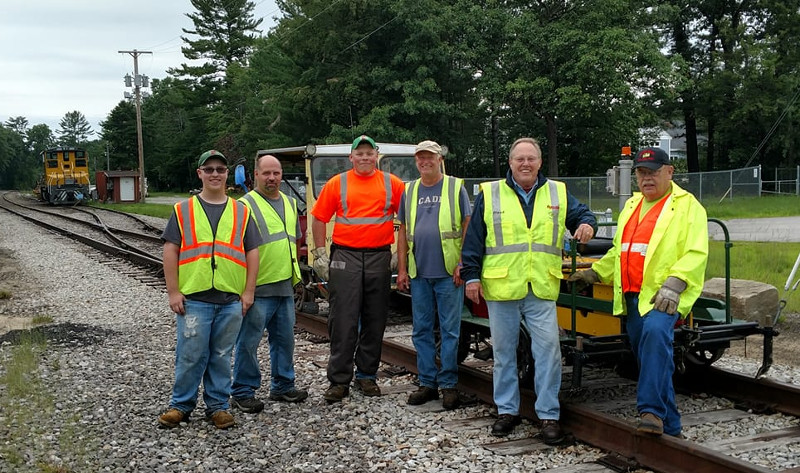 We've had a busy summer on the New England Southern, including two back to back work rides. Under the threat of rain, our crew of Collin, Jim, Hayden, Clif, Frank, Tommy and Jon (behind the camera) got cutting done at milepost C21 and Noyes Rd. After lunch at the now famous Tilton House of Pizza, they trimmed around some of the old semaphore signals. (JWM)
More...
See the archives for postings from 2003, 2004, 2005, 2006, 2007, 2008, 2009, 2010, 2011, 2012
Warning: date(): It is not safe to rely on the system's timezone settings. You are *required* to use the date.timezone setting or the date_default_timezone_set() function. In case you used any of those methods and you are still getting this warning, you most likely misspelled the timezone identifier. We selected the timezone 'UTC' for now, but please set date.timezone to select your timezone. in /home/19/72/2917219/web/index.php on line 177
, 2013, 2014, 2015, 2016, 2017 and 2018
---
CVRTC, Inc.
P.O. Box 417
Wolfeboro Falls, NH 03896