Cotton Valley Rail Trail Club, Inc.

A NARCOA Affiliate Club since 2014

LEGAL NOTICE: Operation of railway equipment, including motorcars, is governed by Federal, State and Railroad authorities. All rail property is owned by someone. Operation of any equipment on or around railroad property is only permitted with permission of the property owner or leasor. CVRTC will assist local, State, and Federal authorities in prosecuting illegal operators of railway equipment. Railway motorcar organizations now exist in most parts of the world. Please contact one of your local organizations. They have access to rail property, equipment information and SAFETY information. They are always looking to promote the hobby/sport and would love to have your help.

The Cotton Valley Rail Trail Club is an association of railway motorcar owners dedicated to performing volunteer right-of-way and rail trail maintenance in New England.
---
Thursday Gang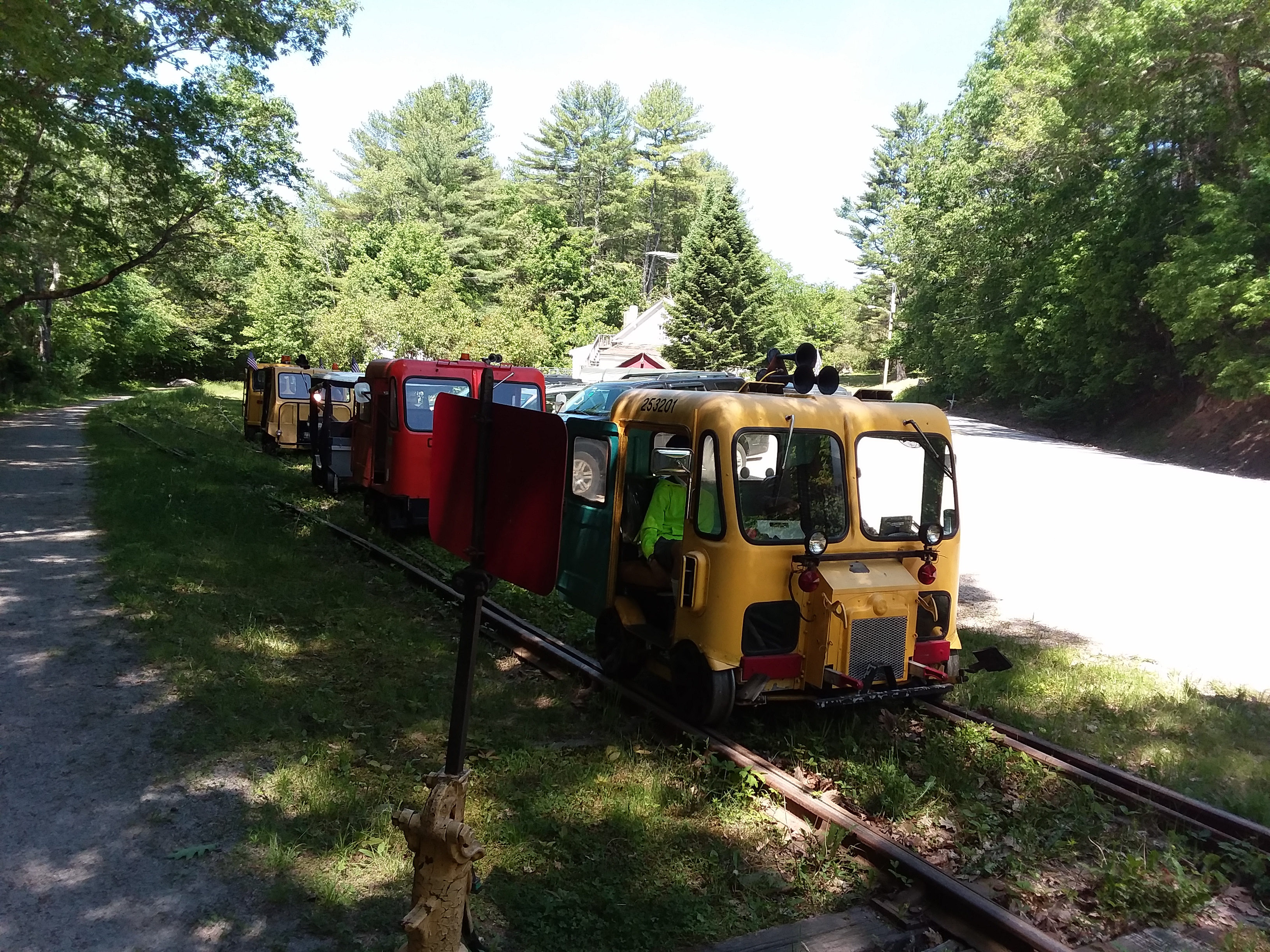 (June 15, 2017) Must be nice to be retired! The Thursday Gang was out for a track patrol today. Looks like five cars headed eastbound on the mainline at Cotton Valley. (JWM)
June Family Day and BBQ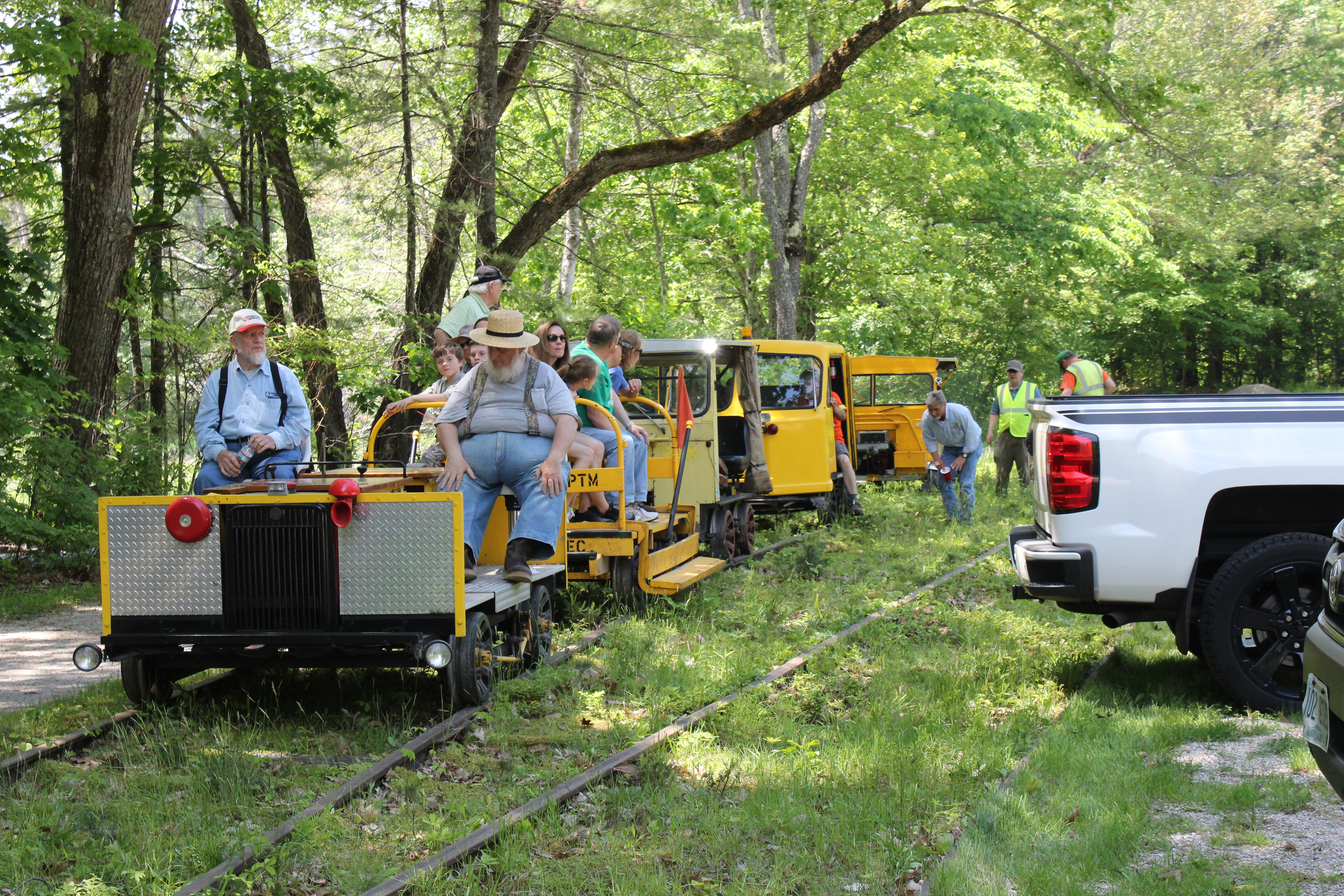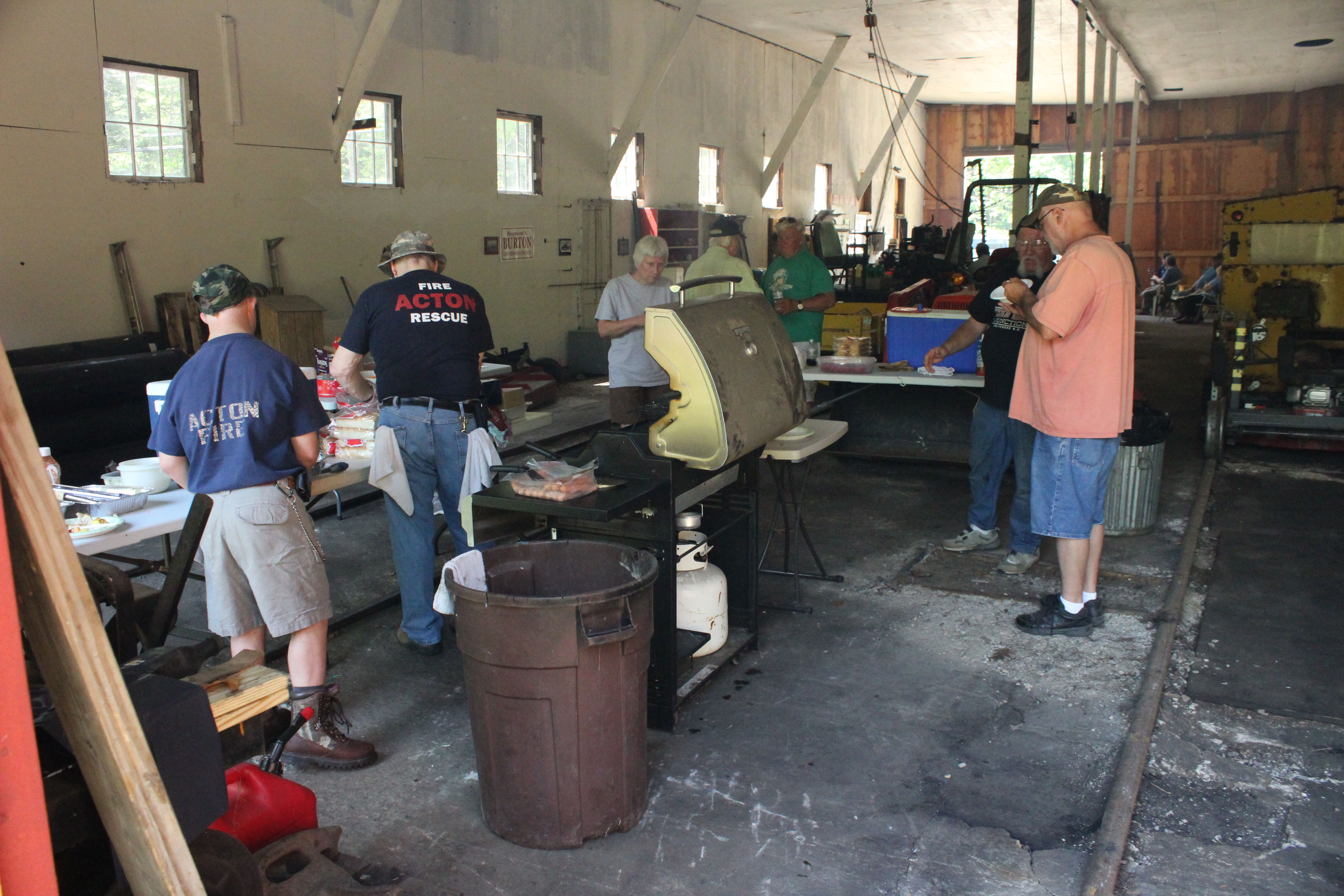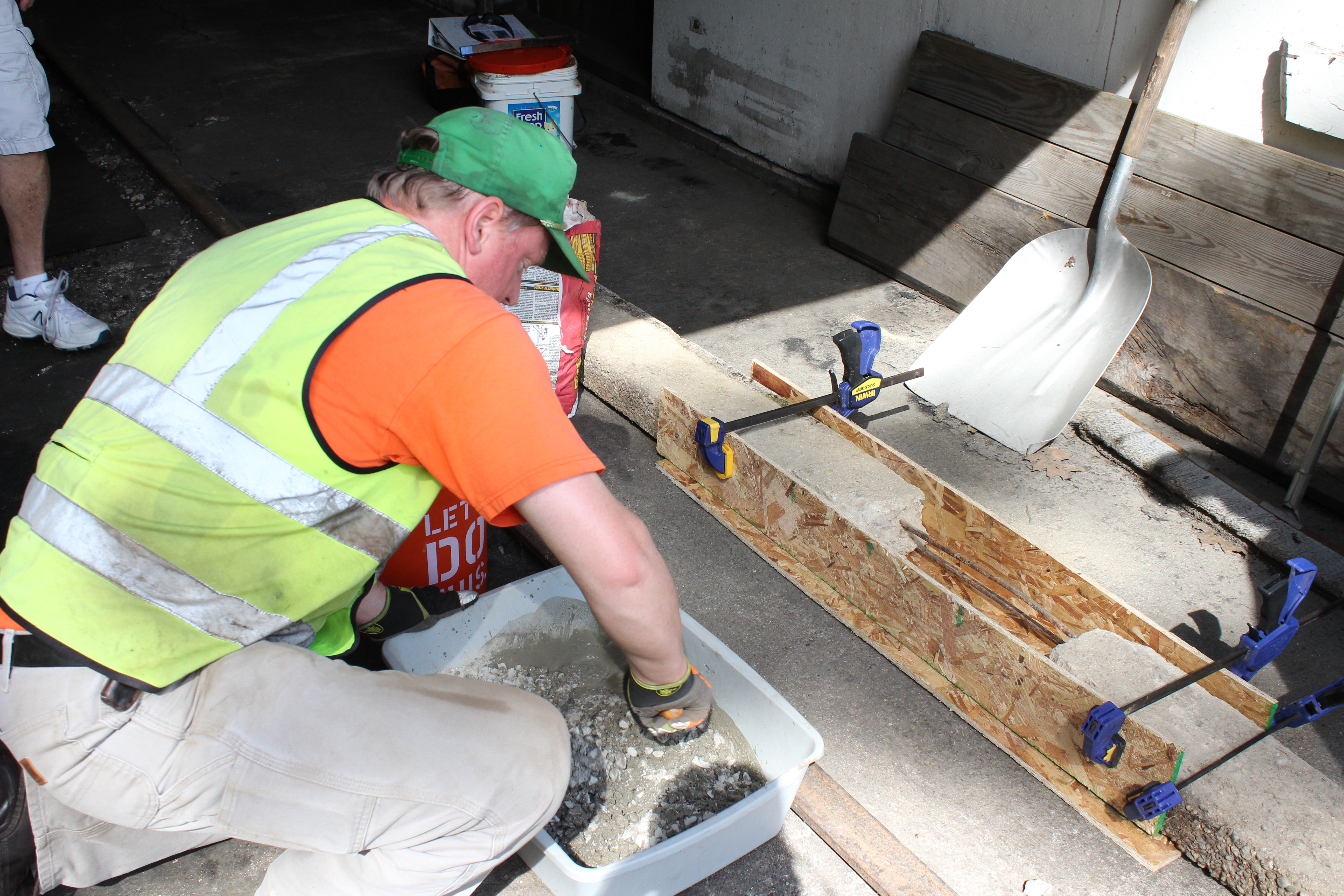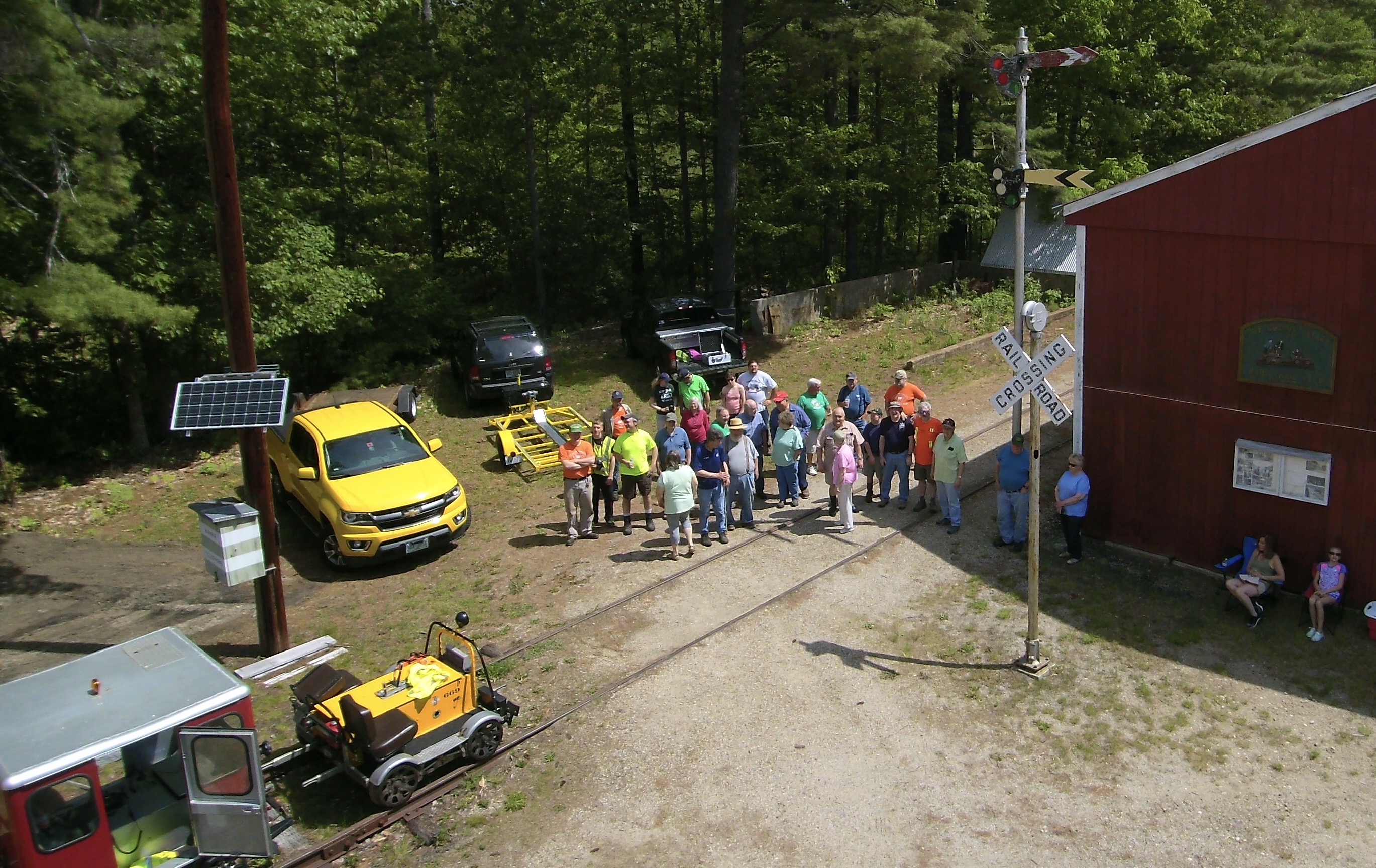 (June 11, 2017) Great day full of motorcar rides, great food, and a little bit of work restoring a whistle post. Photos taken by Edward. Overhead photo by Jesse. (JWM)
Trail News
(June 5, 2017) Bruce reports that the bridge is finished. The recent weather has rained out on starting the Memorial Garden. Bruce and Dave will try for later this week. Bruce spoke with contractor regarding brush chipping; no problem with holding off for a couple of weeks until the base of the trail is established. It will be a lot easier to move the chipper and tractor up the line utilizing the trail opposed to negotiating the ties. We've had a chance to take a look at what we're dealing with regarding brush. Not as much, or big as first thought. Mike said that because of the amount of fill they're digging out of the embankments, they are going to fill the holes with as much brush as they can, and cover it. Will be a huge help for us.

See everyone this weekend for our Family Picnic Day. (JWM)
Pike Brook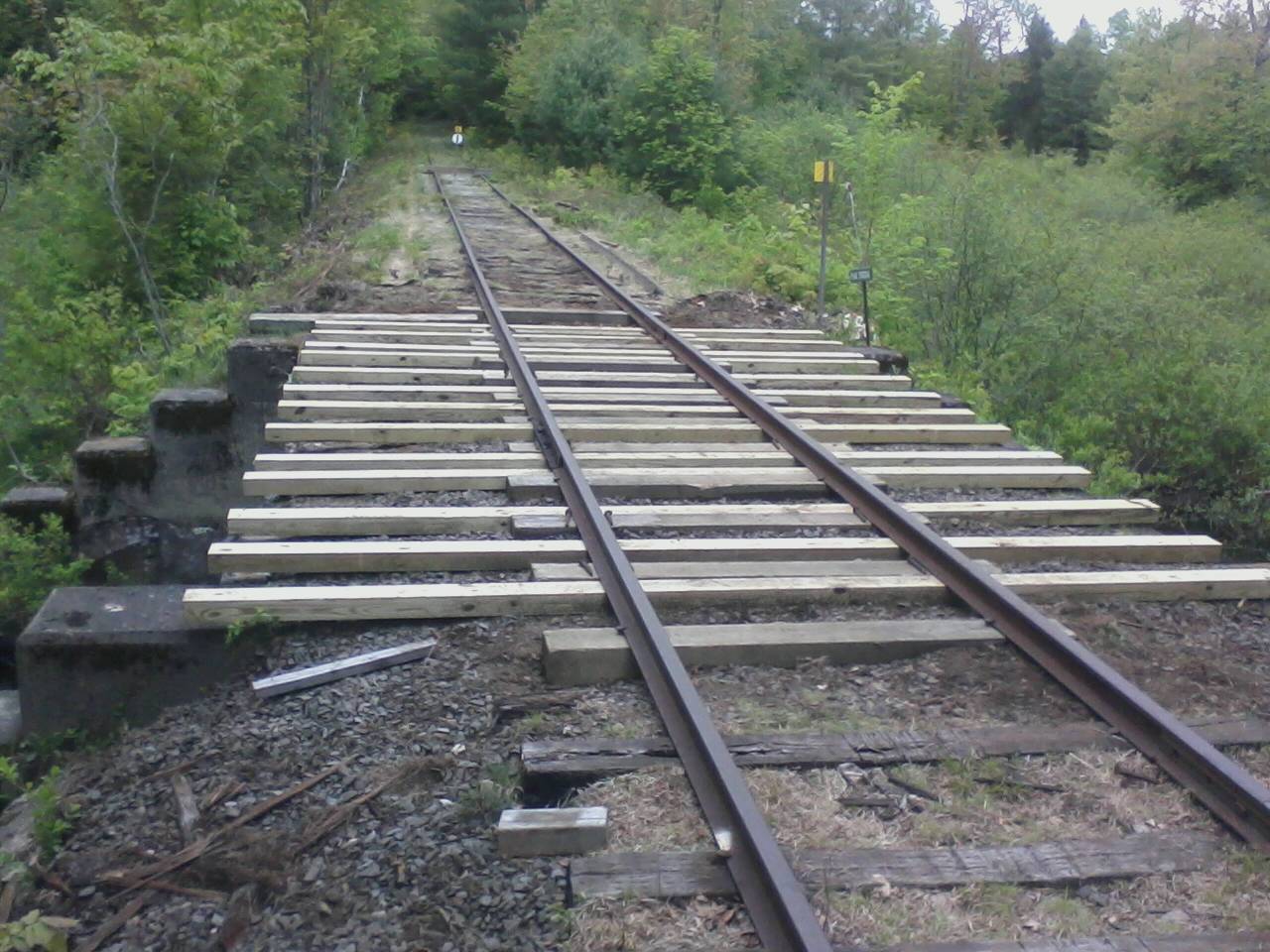 (May 30, 2017) The new bridge timbers are installed, and the rail has been replaced. The line is now re-opened all the way to the Miss Wakefield Diner. Use caution over the bridge, as some spikes still need to be driven. (JWM)
New England Southern
(May 27, 2017) We had three trackcars and five members and guests along for a great day on the rails. This spring NEGS expanded their trackage from Sargent Street (C17.61) to Silver Lake Road (C21.90). Today's focus was brush trimming along this section. In the picture, Sam is just finishing turning his Woodings car, while Hank waits to spin his little M9. Out of the picture to the left, Jon has already turned his MT-14. After a morning of cutting, the crew headed back to Tilton, having lunch at the Tilton House of Pizza; across the street from the former station at C18.38 (JWM)
More...
See the archives for postings from 2003, 2004, 2005, 2006, 2007, 2008, 2009, 2010, 2011, 2012, 2013, 2014, 2015, 2016 and 2017
---
CVRTC, Inc.
P.O. Box 417
Wolfeboro Falls, NH 03896