Cotton Valley Rail Trail Club, Inc.

Established in 1992
NARCOA Affiliate Club since 2014

LEGAL NOTICE: Operation of railway equipment, including motorcars, is governed by Federal, State and Railroad authorities. All rail property is owned by someone. Operation of any equipment on or around railroad property is only permitted with permission of the property owner or leasor. CVRTC will assist local, State, and Federal authorities in prosecuting illegal operators of railway equipment. Railway motorcar organizations now exist in most parts of the world. Please contact one of your local organizations. They have access to rail property, equipment information and SAFETY information. They are always looking to promote the hobby/sport and would love to have your help.

The Cotton Valley Rail Trail Club is an association of railway motorcar enthusiasts dedicated to preserving motorcar history and right-of-way maintenance through active operation and stewardship.
---
Seashore Trolley Museum
(12 October 2019) Today was "Members Day", Jon and his son Dave started their day with hardy breakfast at the Kennebunk McDonalds. The brush cutting mission today was to open up several culverts. These are built with massive granite blocks. After following the inspection trip back to the Visitors Center, they switched over to the Butler Grove Lead, and gave rides all the way over to the Highview Barn; even shuttling some Museum staff. Hey, why walk when you can ride?

To the left... TC-42 is perched on the mainline; those granite blocks are about two feet thick, the culvert opening three feet high. Jon thinks he might be done for the season, but already thinking about spring, and continuing to build our relationship with the museum. (JWM)
Seashore Trolley Museum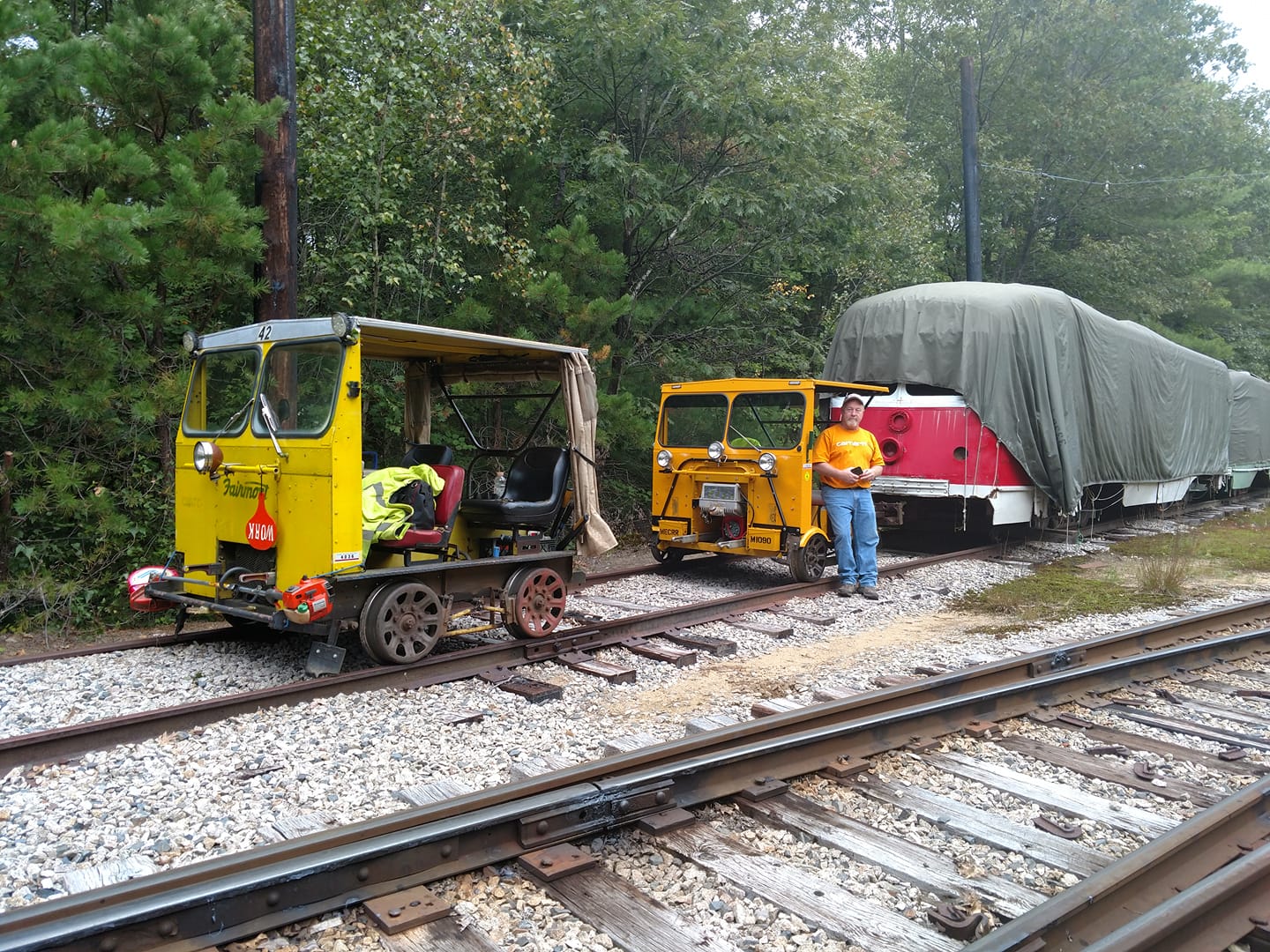 (14 September 2019) Jon and Chris enjoyed a cool Fall morning, continuing to push back the bushes along the STM mainline. They were joined on the return trip by Charlie, head of the track department, who pointed out a couple of more spots need attention. At this point, there is no longer anything hitting the trolleys, so we're focusing on clearing around culverts, and poles bases to make inspections easier. Everyone is happy with the work we've been doing, and the professionalism we bring.

Next trip over is scheduled for their "Members Day" on October 12. (JWM)
New England Southern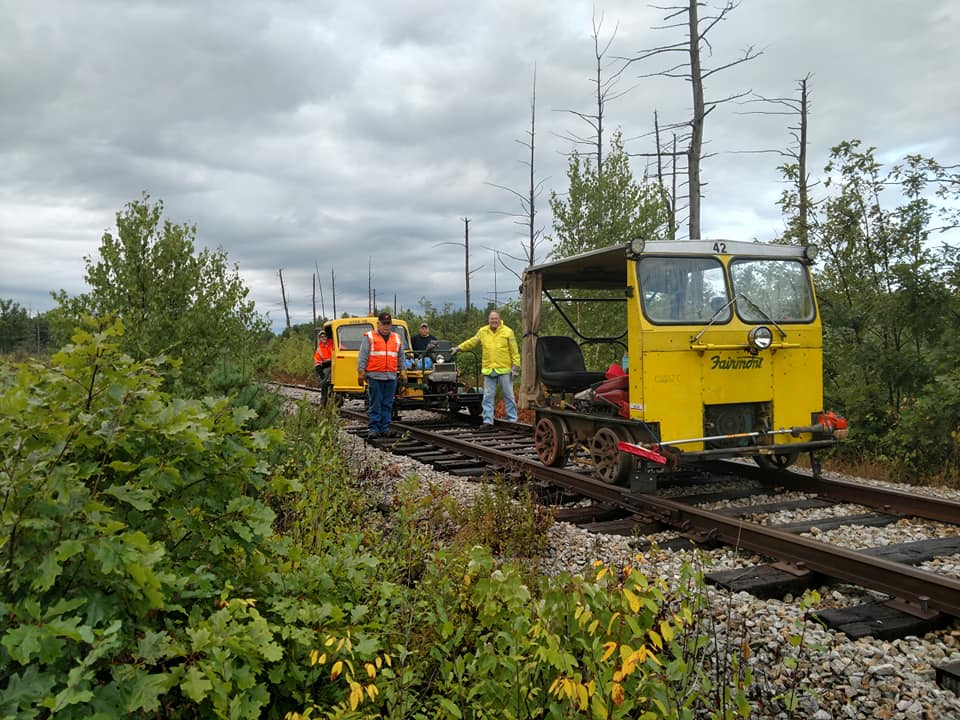 (7 September 2019) Today's crew was Frank, Tommy, Hayden, Collin and Jon. The crew took advantage of the nice cool weather to finish their cutting in the Northfield swamp. Due to the wetlands, this is a spot where the State of NH cannot spray.

After lunch at Tilton House of Pizza, they went all the way south to White Mountain Junction (Concord), before returning to Canterbury. Great day, and a big thanks to the crew at WMUR for an accurate forecast! (JWM)
"Mowing Monday" at Cotton Valley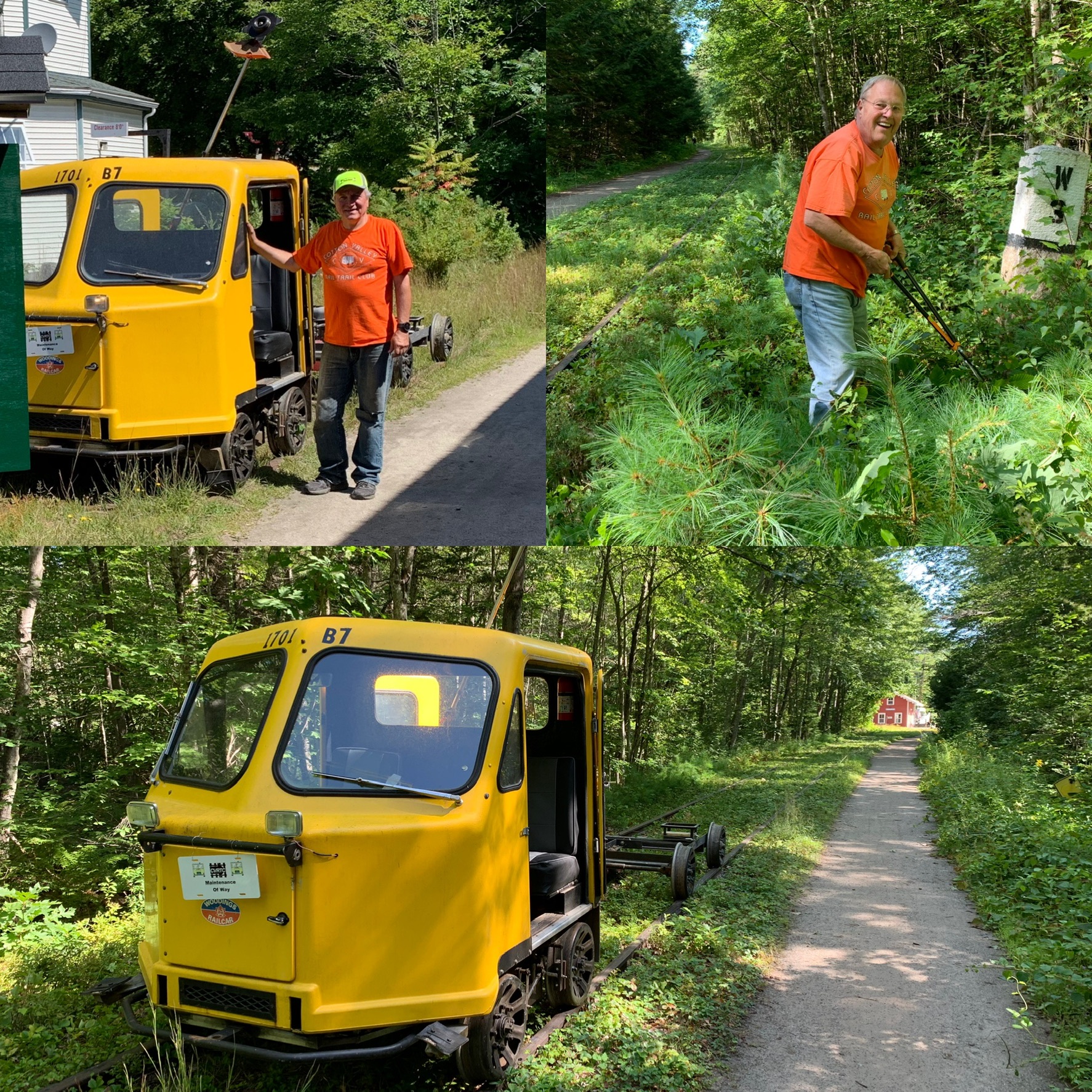 (26 August 2019) Another Mowing Monday on the Wolfeboro branch. This time we traveled from Fernald Station to the western end of track at Route 28 in downtown Wolfeboro. Hayden L. cleared enough saplings the previous Wednesday to allow us to take the mower west! The rails are now clearly seen as you pass the trailhead along Rt 28 in town. So get out there and enjoy the West End! (SPM)
More...
See the archives for postings from 2003, 2004, 2005, 2006, 2007, 2008, 2009, 2010, 2011, 2012, 2013, 2014, 2015, 2016, 2017, 2018 and 2019
---
CVRTC, Inc.
P.O. Box 417
Wolfeboro Falls, NH 03896