Cotton Valley Rail Trail Club, Inc.

Established in 1992
NARCOA Affiliate Club since 2014

LEGAL NOTICE: Operation of railway equipment, including motorcars, is governed by Federal, State and Railroad authorities. All rail property is owned by someone. Operation of any equipment on or around railroad property is only permitted with permission of the property owner or leasor. CVRTC will assist local, State, and Federal authorities in prosecuting illegal operators of railway equipment. Railway motorcar organizations now exist in most parts of the world. Please contact one of your local organizations. They have access to rail property, equipment information and SAFETY information. They are always looking to promote the hobby/sport and would love to have your help.

The Cotton Valley Rail Trail Club is an association of railway motorcar enthusiasts dedicated to preserving motorcar history and right-of-way maintenance through active operation and stewardship.
---
Cleanup Day on Plymouth and Lincoln Railroad
Jon Miner led a crew on a work ride on the Winnipesaukee Scenic section of the Plymouth and Lincoln on Saturday. Ron M. brought his motorcar AND a trailer to help transport the debris that was collected along the ROW in the Laconia section. The work crew got a tour of the beautiful Laconia station after the work ride. Great to see renovation work is being done on the old Concord &amp Montreal RR station. (J Miner Photos)
(SPM)
Ossipee Brush Cutting
MOW Report from James Chadbourne: We had a very successful morning on the Ossipee line today. Toby Lowry, Rick OBrien, Jon Miner, Norm Yeaton, and Hayden joined me as we went to town on the overgrown siding at Center Ossipee behind the Mountain View diner at 9:00 AM. With a good set of tools and a willing crew we made short work of it. It will need mowing and the dirt in the gauge near Mountain View will have to be removed by the tractor. We were all set off and safely on our way before 13:00. After the main work was complete the five of us rode the line to Pollys Crossing. There were 3 or 4 trees (photo) we had to stop and remove. Video link below from the return trip crossing the swamp south of MP B113/I26. Jon was stopping at each MP to record an accurate GPS fix on them. B115 seems to be missing. (J Chadbourne Photos)
(SPM)
Annual Business Meeting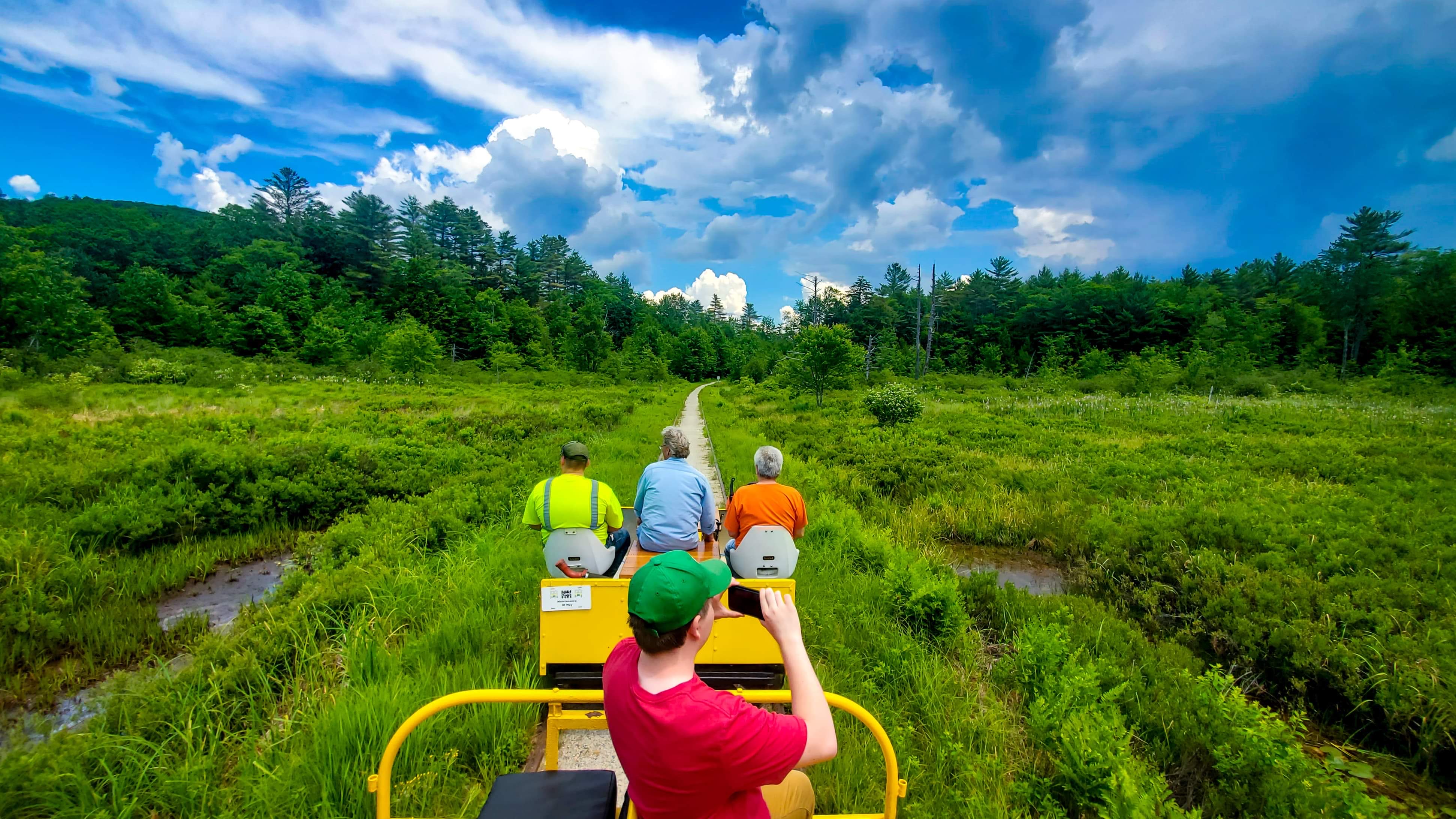 (June 20, 2020)
After many delays and postponements caused by the global pandemic, the club was able to finally hold it's annual business meeting. Usually held every year in March (stated in club by-laws), it was strange to sit down for the first time as a group in 2020 in June! Elections were held, updates from the Trail Master, Membership Secretary and many other agenda topics discussed. Some trackcars headed east to the Miss Wakefield after the meeting. Some maintenance was performed on the 60" deck mower. (C. Sullaway Photo)
(SPM)
Milford & Bennington Railroad Excursion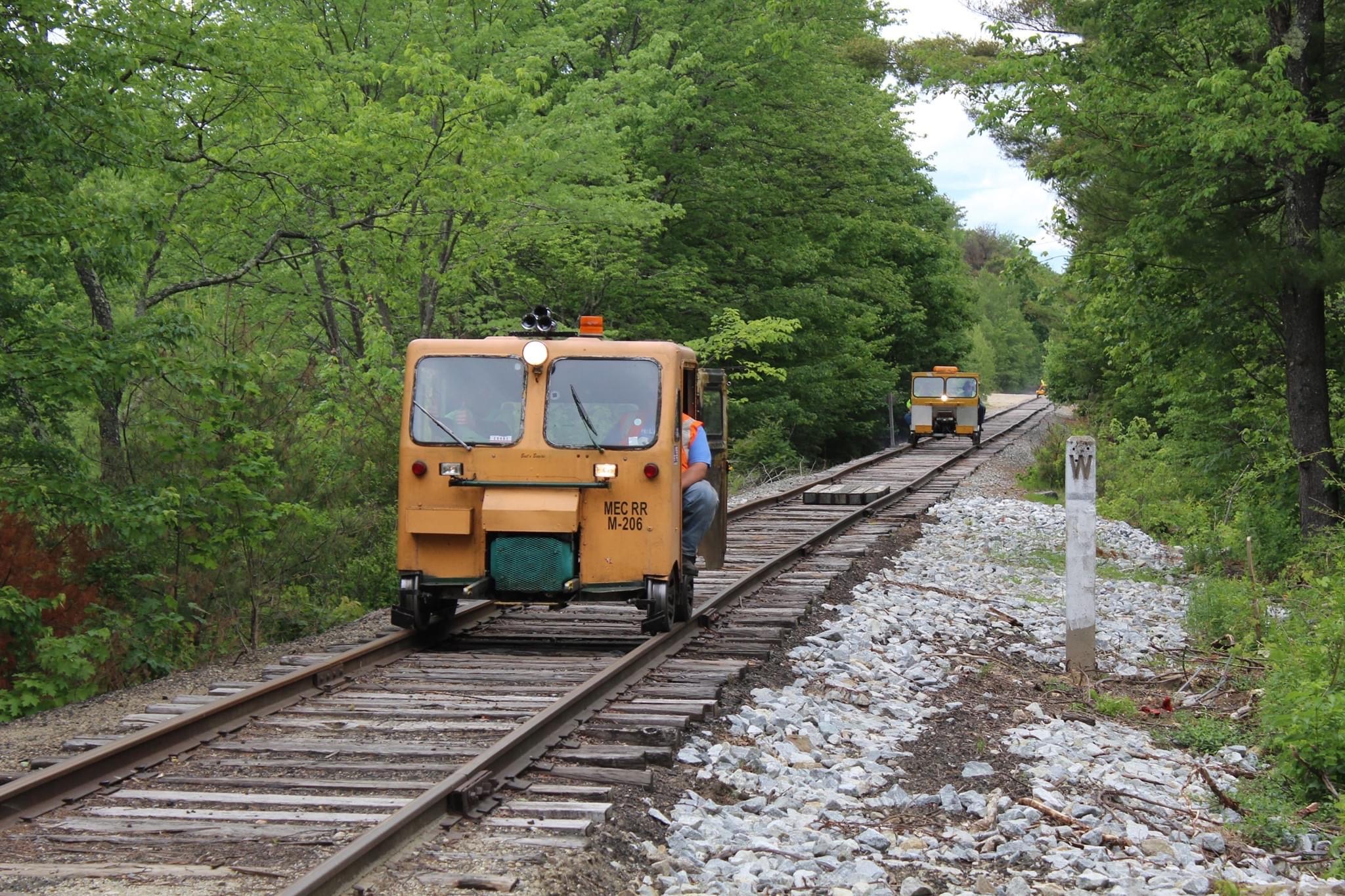 (June 14, 2020)
Jessie Mazzie Trip Report: After a well organized set on we had a brief safety meeting and headed out on the line for a safe 36 mile round-trip excursion. We had a nice lunch stop at the Harvester Market in Greenfield. They seemed very happy to have our business and the food was great. Once in Bennington at the turnaround point, we took a walk down to the falls at the dam. On the way back we stopped at Elmwood Junction where Boston and Maine Historical Society historian, Rick Kfoury, gave an informative talk about it's importance and activity in the remote section of New Hampshire. The group headed back to Wilton and set-off expeditiously. A big thank you to Jon Miner and David Maher for doing the over-the-road flagging. A very big thank you to all the members who turned out for this event. Both our railroad pilot and the owner of the railroad were present and very impressed with our professionalism and safety oriented attitude. (J. Mazzie Photo)
(SPM)
More...
See the archives for postings from 2003, 2004, 2005, 2006, 2007, 2008, 2009, 2010, 2011, 2012, 2013, 2014, 2015, 2016, 2017, 2018, 2019 and 2020
---
CVRTC, Inc.
P.O. Box 417
Wolfeboro Falls, NH 03896