Cotton Valley Rail Trail Club, Inc.

Established in 1992
NARCOA Affiliate Club since 2014

LEGAL NOTICE: Operation of railway equipment, including motorcars, is governed by Federal, State and Railroad authorities. All rail property is owned by someone. Operation of any equipment on or around railroad property is only permitted with permission of the property owner or leasor. CVRTC will assist local, State, and Federal authorities in prosecuting illegal operators of railway equipment. Railway motorcar organizations now exist in most parts of the world. Please contact one of your local organizations. They have access to rail property, equipment information and SAFETY information. They are always looking to promote the hobby/sport and would love to have your help.

The Cotton Valley Rail Trail Club is an association of railway motorcar enthusiasts dedicated to preserving motorcar history and right-of-way maintenance through active operation and stewardship.
---
Plymouth and Lincoln Railroad Workride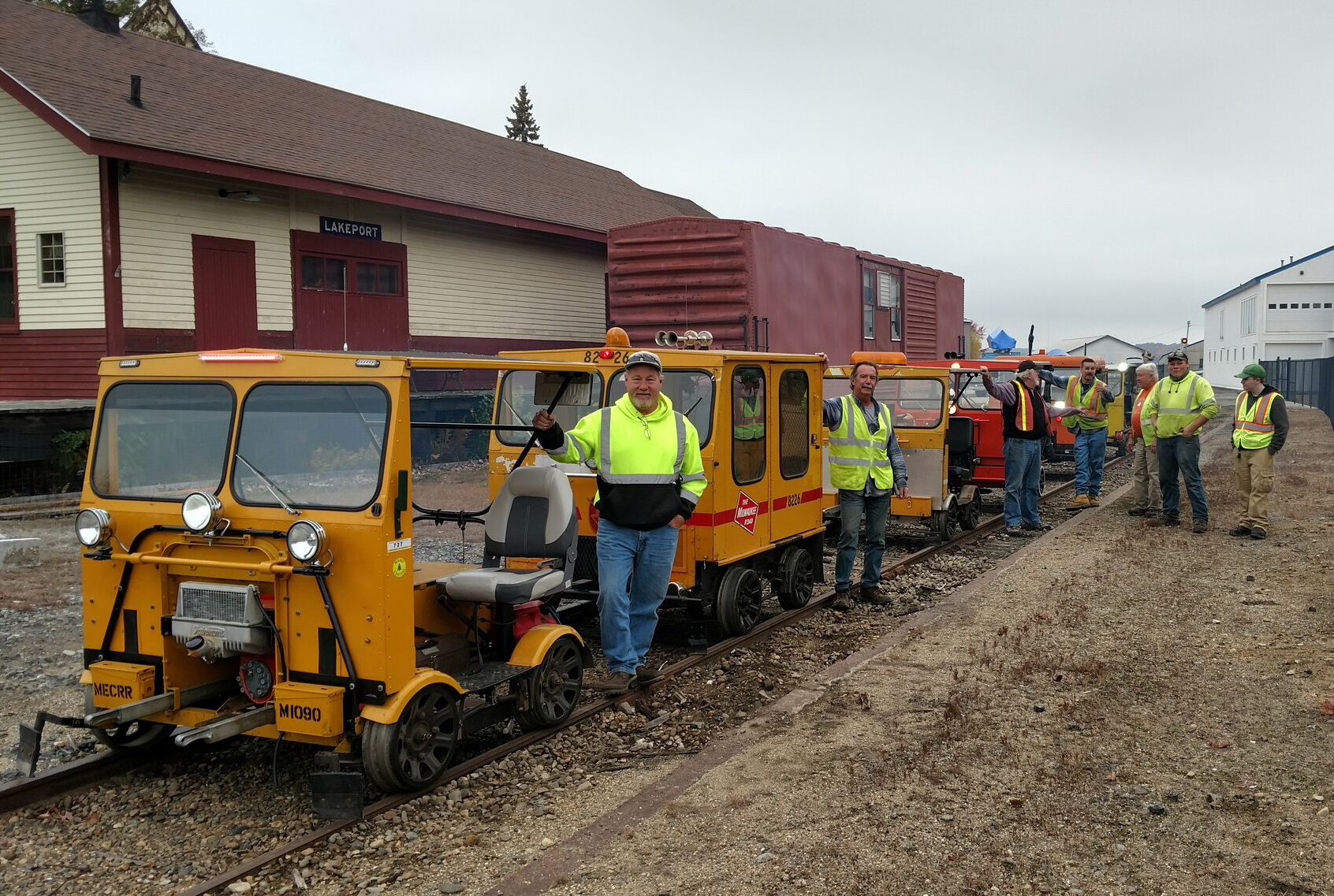 (October 24, 2020)
Work Ride Recap from Jon Miner: "Long, but safe day on the rails. We patrolled from Silver Lake Road to the Lakeport drawbridge in preparation for next week's excursion train. Took care of brush cutting a few spots where the hy-rail cutter missed. Ben Clark says "Thanks very much!" (J Miner Photo)
(SPM)
Milford & Bennington Railroad Run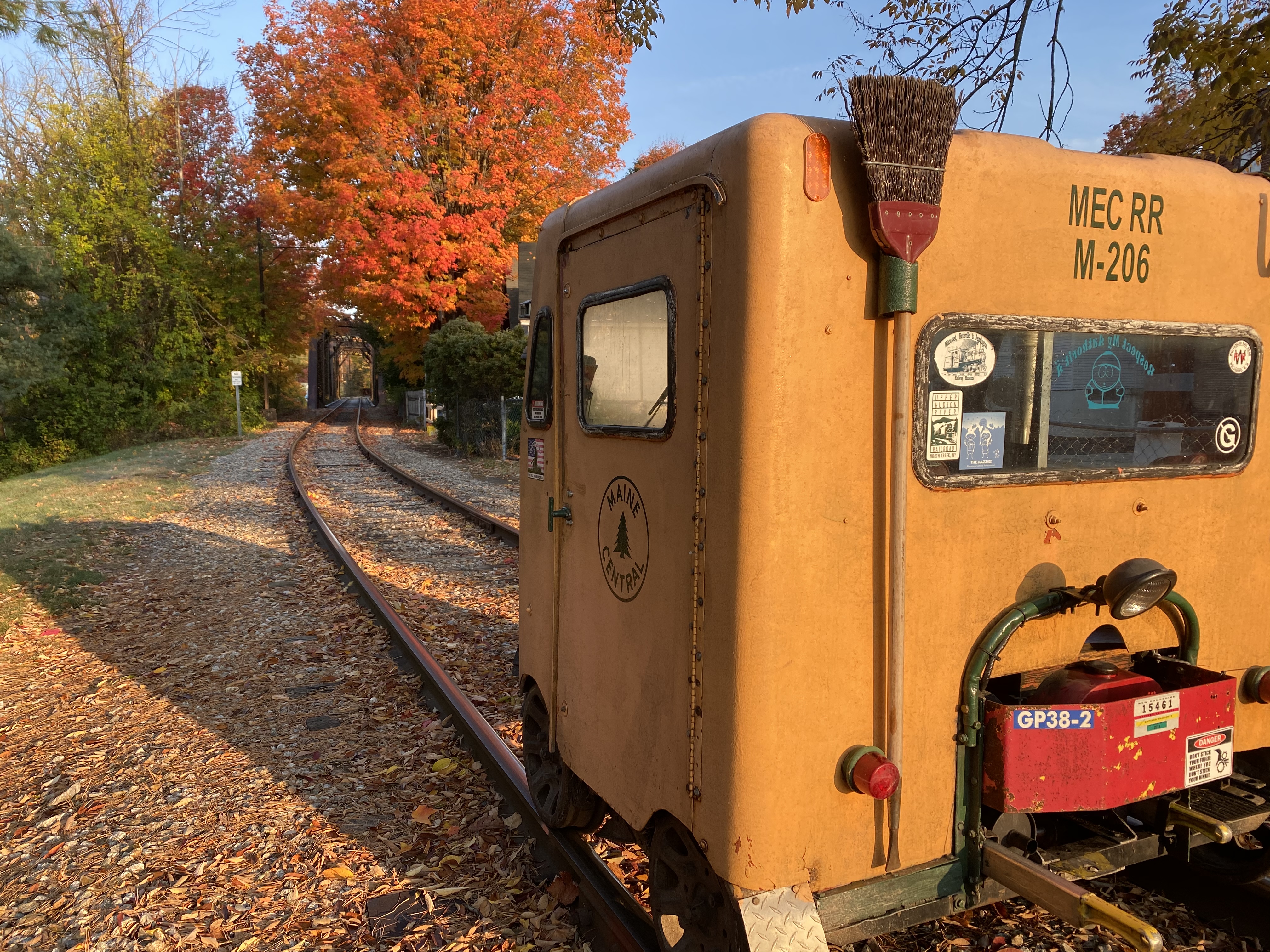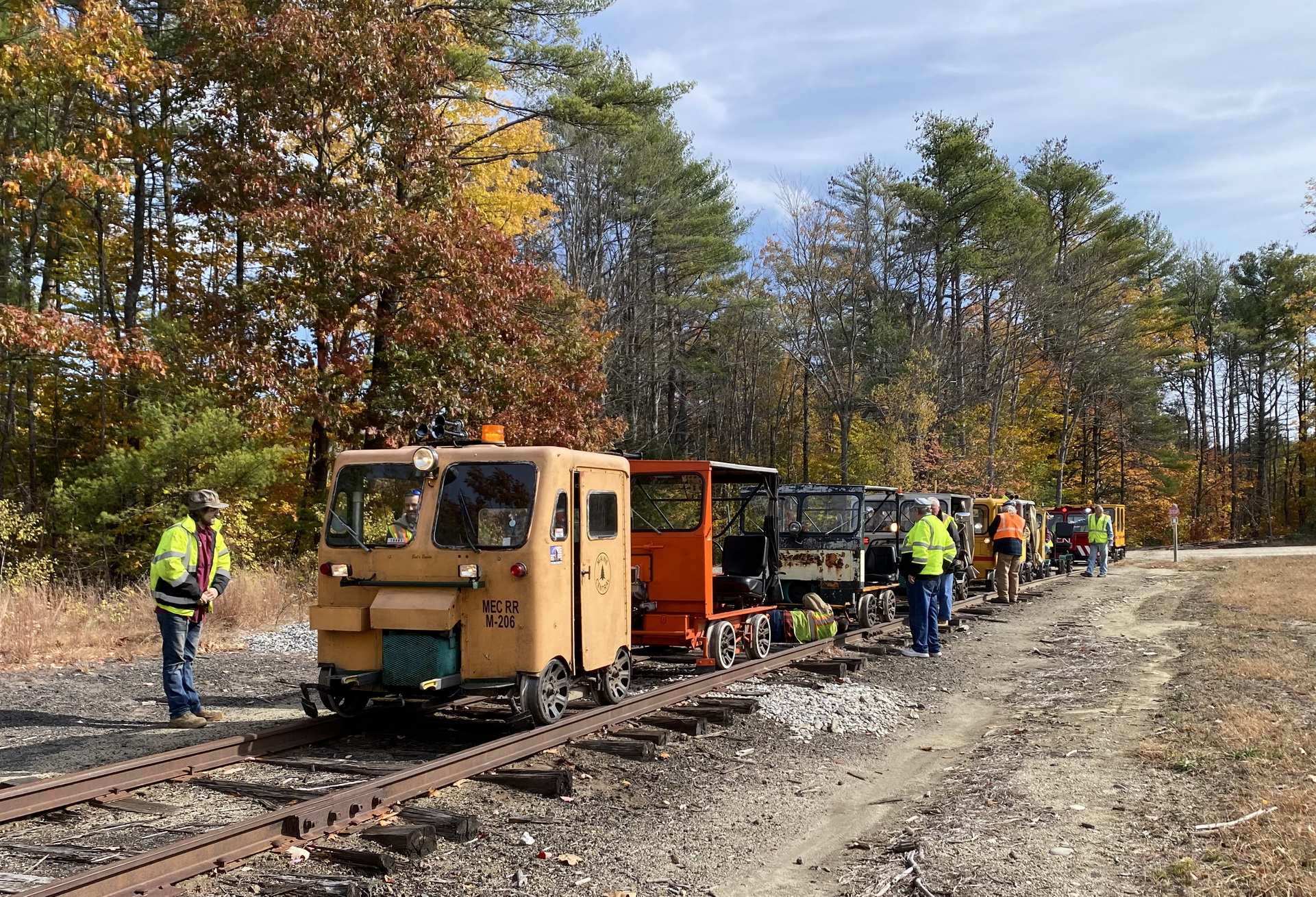 (October 18, 2020)

A message from the club Vice President, Jesse Mazzie:

First, thank you to all those who came to this and all the M&B runs this year. Your participation and professional attitude towards safety first, last and always was noticed. Ten railcars gathered on a PERFECT fall day at Howard st. in Wilton. Set on went smooth and we gathered for our safety meeting. Once we set out it was slow and steady up the big hill due to the anticipated frosty rail. We stopped in Greenfield for lunch and some members went over and checked out the blacksmith shop that was working. After turning in Bennington we checked out the closed trestle and Contoocook river. On the way back we stopped at the historic Elmwood Jct. to see the remains of a historic area. We stayed on schedule and were off the rail in time with our thanks to the M&B for helping contribute to a great series of runs this year. (J Mazzie photos) (SPM)
Art Hawkes Memorial Run - MEC Mountain Division
The club rode to remember Art Hawkes by running his beloved Mountain Division. We enjoyed spectacular warm summer weather in October. It was so nice to have Brenda Hawkes join us on this somewhat "Adventure Excursion". Thanks to Brian and Sue for providing a seat for Brenda. Brenda remarked, "As I rode, I watched all the mile posts he had lovingly painted the whole length and laughed how well they were holding up and how precise they were painted. He was a perfectionist. Getting back just after dark was even perfect as he had no sense of time and almost always got back late and often after dark. Again our son Will and I thank you for this."
It was our pleasure Brenda and Will. Thank you for joining us. We were happy to do the full trip to the New Hampshire border and back. (B Leo,S Fuller, S McInerney Photos)
(SPM)
Mentoring Day at Fernald
(September 26, 2020)
Meeting Report from Vice President Jesse Mazzie: This morning seven more Cotton Valley members took part in mentoring day at Fernald Station. We started off with classroom teaching on safety/operating rules, mechanical and lots of other motorcar topics. After a morning of classroom learning we headed out on the Wolfeboro line and upon arrival back at Fernald 5 new NARCOA Mentored operators were signed off on and the other 2 will get checked off next insurance season. Everyone did great and it was safe day. Thank you to Gordon, Danny and Mark from NEREX for coming over and congratulations to Jon M, Paul R, Kathleen F, Chris R, James I, Glenn F and Ken B on your work getting "your wings". (J Mazzie Photo)
(SPM)
More...
See the archives for postings from 2003, 2004, 2005, 2006, 2007, 2008, 2009, 2010, 2011, 2012, 2013, 2014, 2015, 2016, 2017, 2018, 2019 and 2020
---
CVRTC, Inc.
P.O. Box 417
Wolfeboro Falls, NH 03896