Cotton Valley Rail Trail Club, Inc.

Established in 1992
NARCOA Affiliate Club since 2014

LEGAL NOTICE: Operation of railway equipment, including motorcars, is governed by Federal, State and Railroad authorities. All rail property is owned by someone. Operation of any equipment on or around railroad property is only permitted with permission of the property owner or leasor. CVRTC will assist local, State, and Federal authorities in prosecuting illegal operators of railway equipment. Railway motorcar organizations now exist in most parts of the world. Please contact one of your local organizations. They have access to rail property, equipment information and SAFETY information. They are always looking to promote the hobby/sport and would love to have your help.

The Cotton Valley Rail Trail Club is an association of railway motorcar enthusiasts dedicated to preserving motorcar history and right-of-way maintenance through active operation and stewardship.
---
Trail Work Day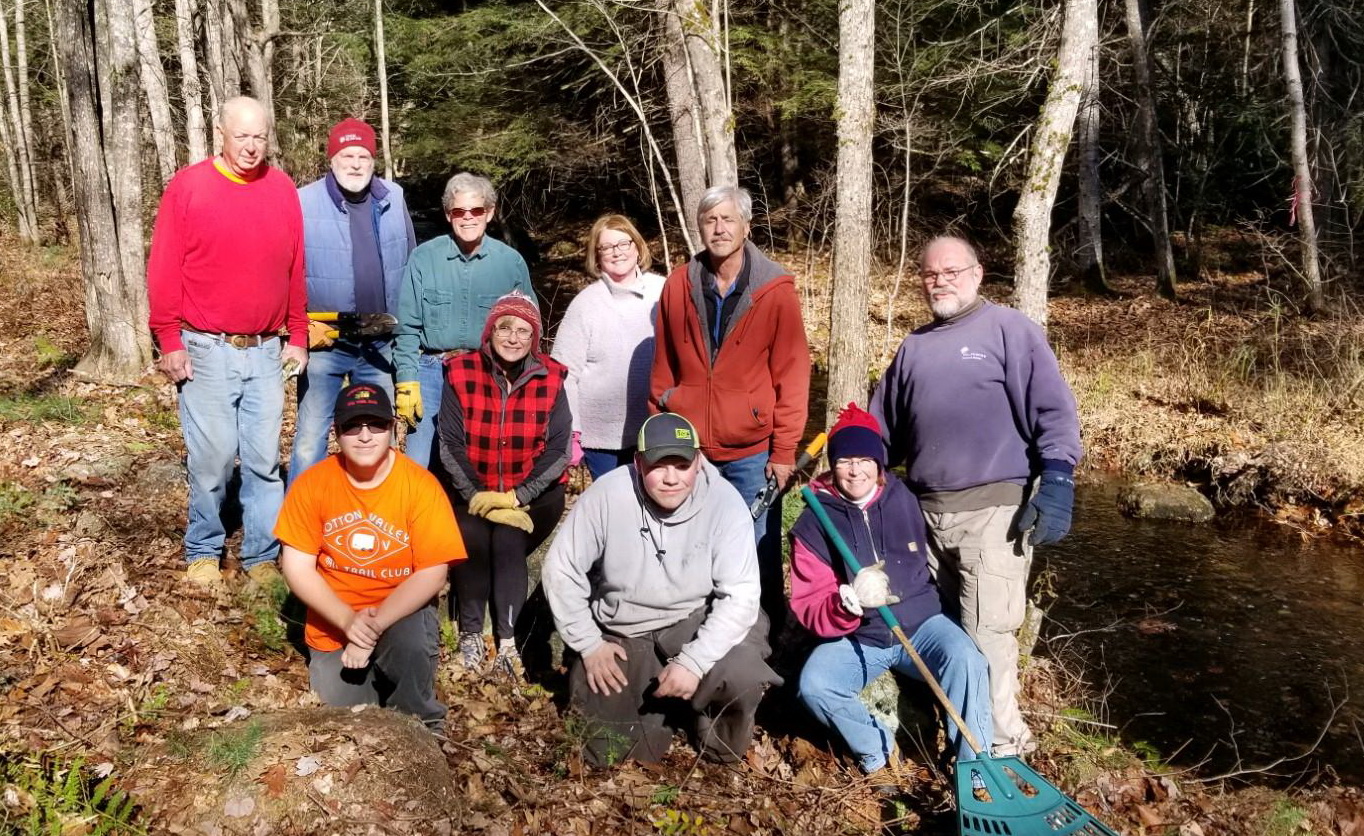 (3 November 2019) Message from the Club President, Bruce Stuart:

Today's volunteer day went well with approx 21 volunteers. They spent about 4 hours out on the line cutting at three different locations. The curve as you leave the first wetland area after Cotton Valley is now completed. An area around Moxie Junction got some attention too. The last section along the river around the picnic table is also cleared. There are now one or two areas along the river section that we could place some benches for a nice riverside view. Several downed trees from the recent wind storm were cleared from the trail just east of Clark Road too. The Seven Lakes Snowmobile Club tackled that job. Thanks guys! Expect more published volunteer days next season with CVTC. See everyone at the next meeting. (SPM)
New Hampshire Southern / Hobo Railroad
(20 October 2019) Frosty morning at Canterbury as the group seton. We had five motorcars and eight members and guests. Our mission for the day was to clean up any storm damage between Canterbury and the former Winnisquam depot, as well as do some more cutting along the causeway and campgrounds.

The storm damage was less than expected, but the chainsaws came in handy. Chris took this picture as we got ready to clear a tree near the Lochmere siding.

Received an email from the Hobo Railroad, saying "Thank you-- we really appreciate your assistance and support.". That really sums up the impact that our club members make! (JWM)
October Meeting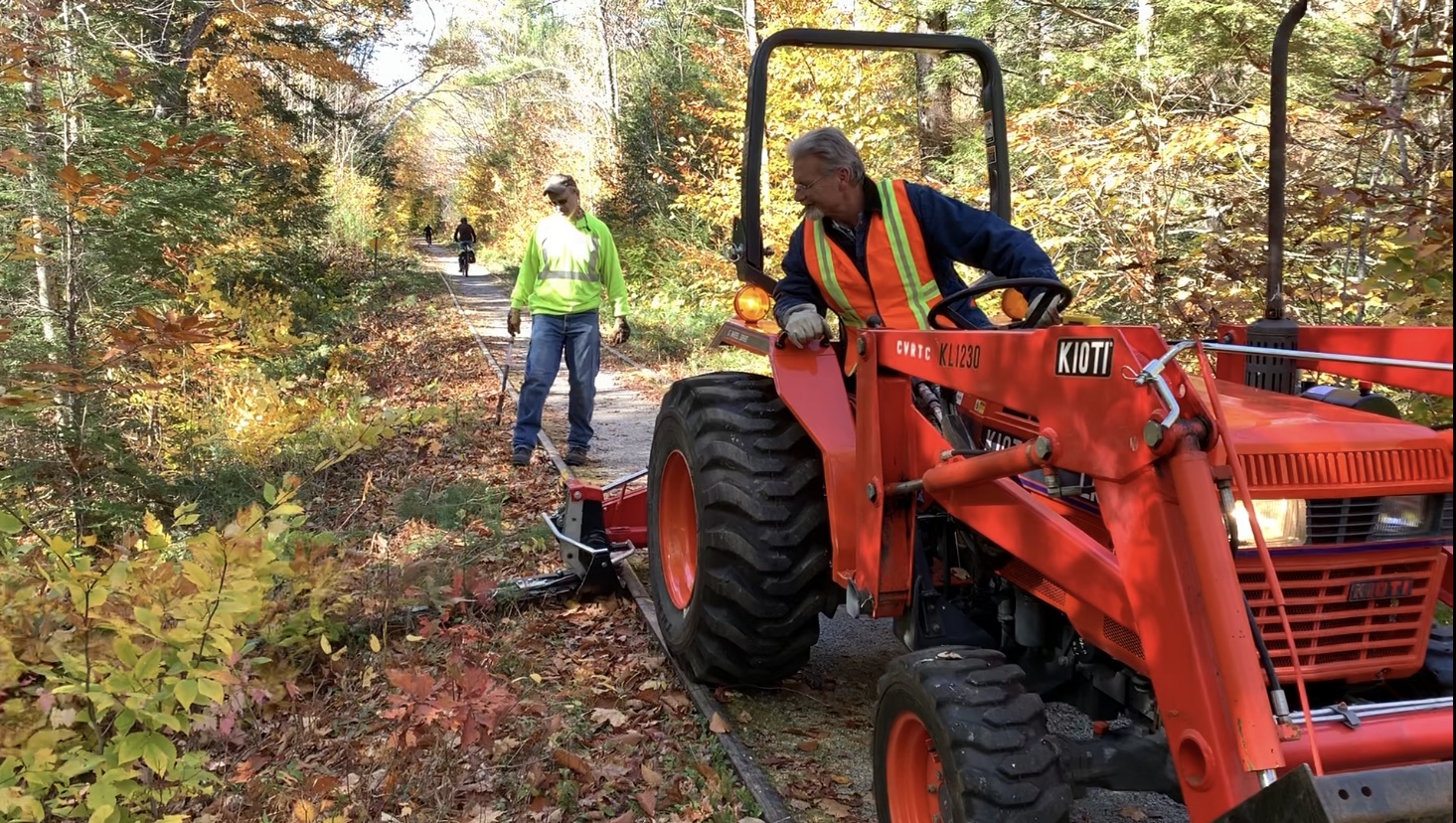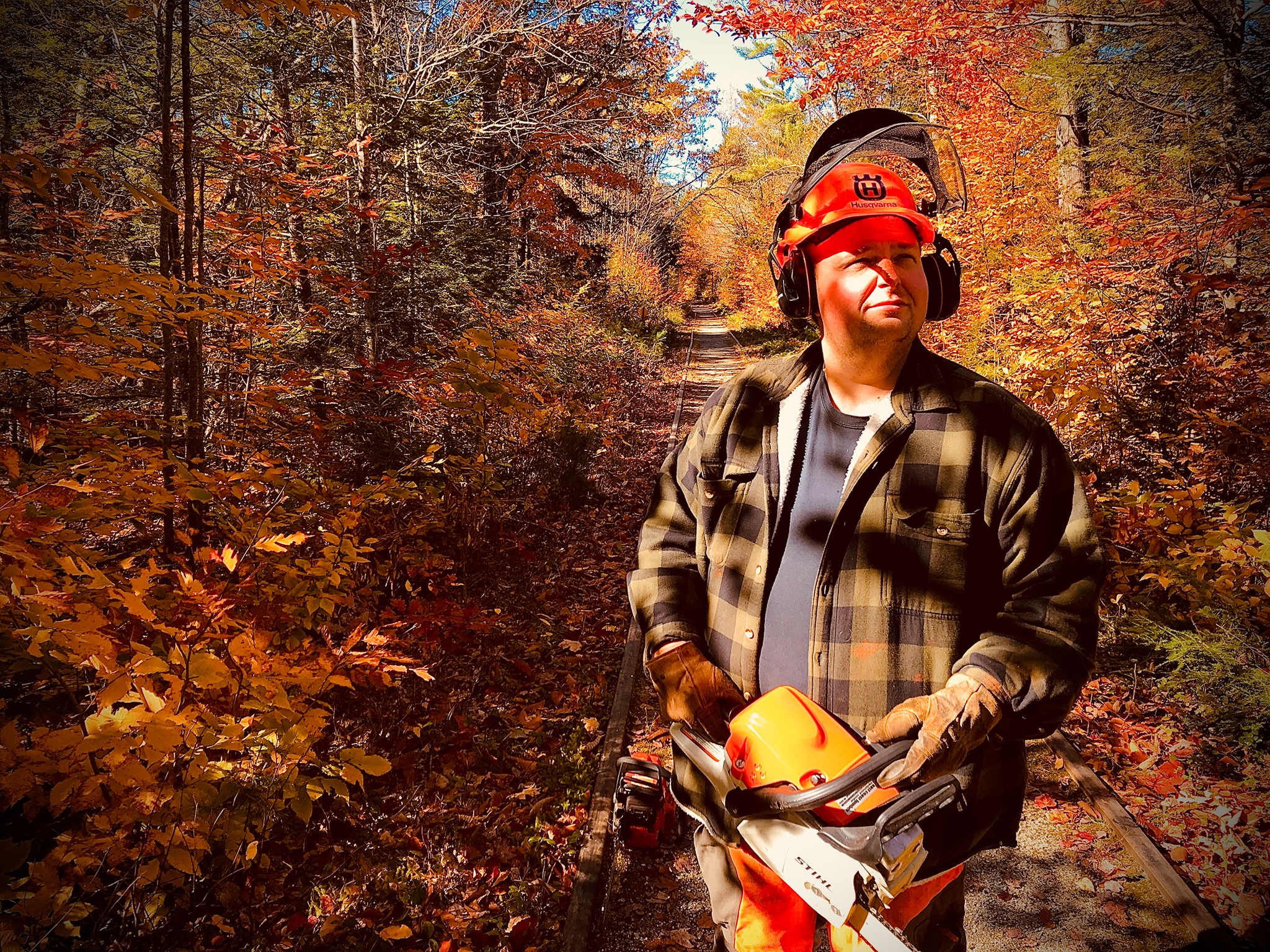 (19 October 2019) The club gathered in the engine house for the monthly business meeting. We welcomed a new member and discussed the days activity. What else! Cutting the corridor out near Frost Crossing. We have been busy clearing any obstructions that are in the path of the new seven foot sicklebar. The ROW has never been bigger since the Boston & Maine Railroad left town.

Pictured left is the tractor leaving Frost Crossing and heading east to Cotton Valley siding. Right, Vice President Jesse Mazzie "contemplates" the awesome fall foliage of northern New Hampshire where we ride, then proceeds to cut down half of it! :-) (SPM)
New Hampshire Central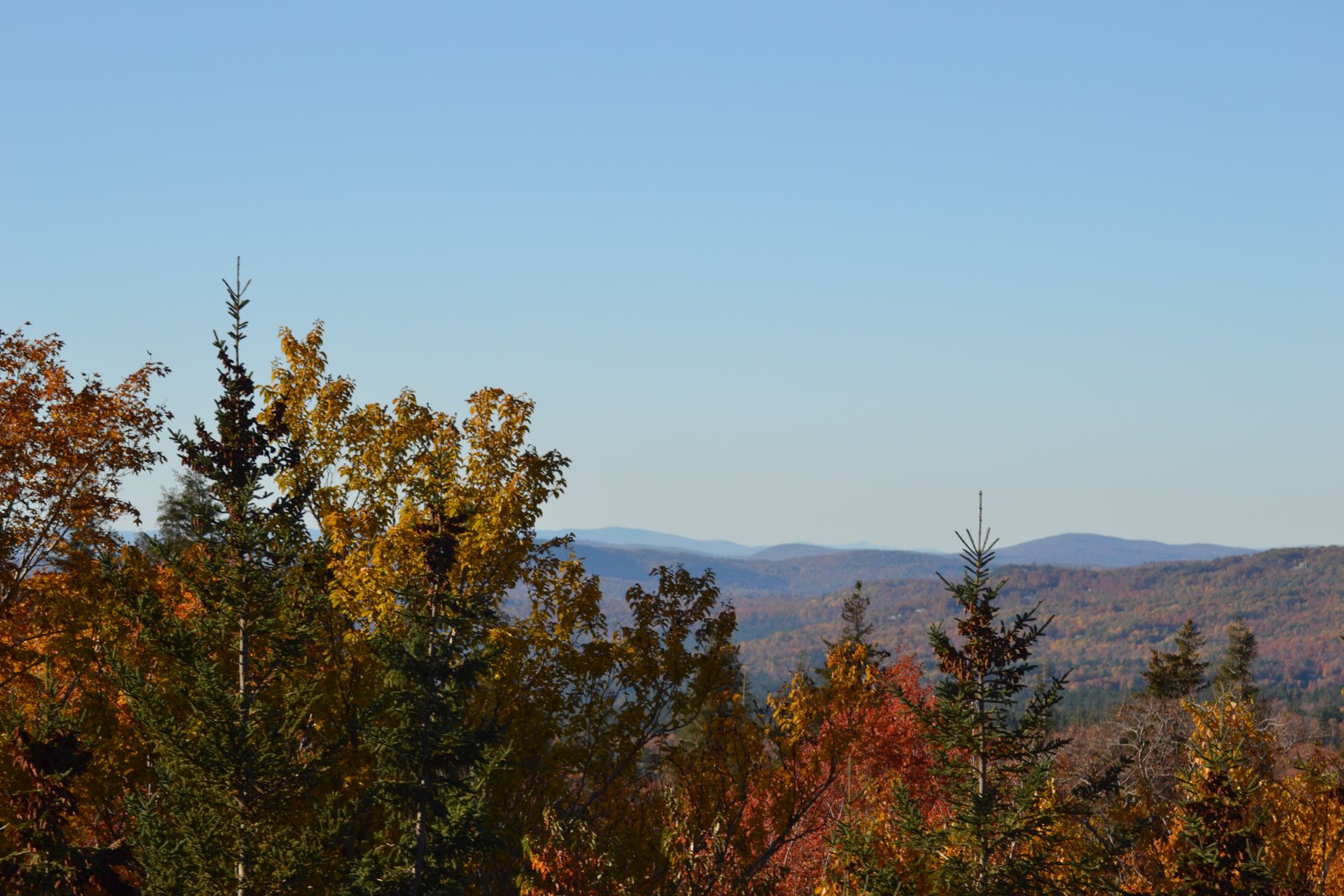 (13 October 2019) It was pretty cloudy as Jon drove past Franconia Notch and Cannon Mountain, and the forecast still called for a chance of rain. It wasn't sounding like a great day for a foliage excursion in Northern New Hampshire.

We had nine motorcars, with members, guests, and Roger, our railroad pilot for the day. It was easy to seton at Hazens, with plenty of parking in the NHC transload yard. After our safety briefing, we headed west to Whitefield on the former B&M trackage to the ball signal. From there, we reversed direction, heading east to Waumbek Junction, then north on former Maine Central track to Coos Junction, where we returned to B&M tracks for the trip to Groveton.

The sun came out, and we had some great views of foliage. To the left, one of Amy Read's pictures. (JWM)
More...
See the archives for postings from 2003, 2004, 2005, 2006, 2007, 2008, 2009, 2010, 2011, 2012, 2013, 2014, 2015, 2016, 2017, 2018, 2019 and 2020
---
CVRTC, Inc.
P.O. Box 417
Wolfeboro Falls, NH 03896