Cotton Valley Rail Trail Club, Inc.

Established in 1992
NARCOA Affiliate Club since 2014

LEGAL NOTICE: Operation of railway equipment, including motorcars, is governed by Federal, State and Railroad authorities. All rail property is owned by someone. Operation of any equipment on or around railroad property is only permitted with permission of the property owner or leasor. CVRTC will assist local, State, and Federal authorities in prosecuting illegal operators of railway equipment. Railway motorcar organizations now exist in most parts of the world. Please contact one of your local organizations. They have access to rail property, equipment information and SAFETY information. They are always looking to promote the hobby/sport and would love to have your help.

The Cotton Valley Rail Trail Club is an association of railway motorcar owners dedicated to performing volunteer right-of-way and rail trail maintenance in New England.
---
Milford & Bennington Railroad Run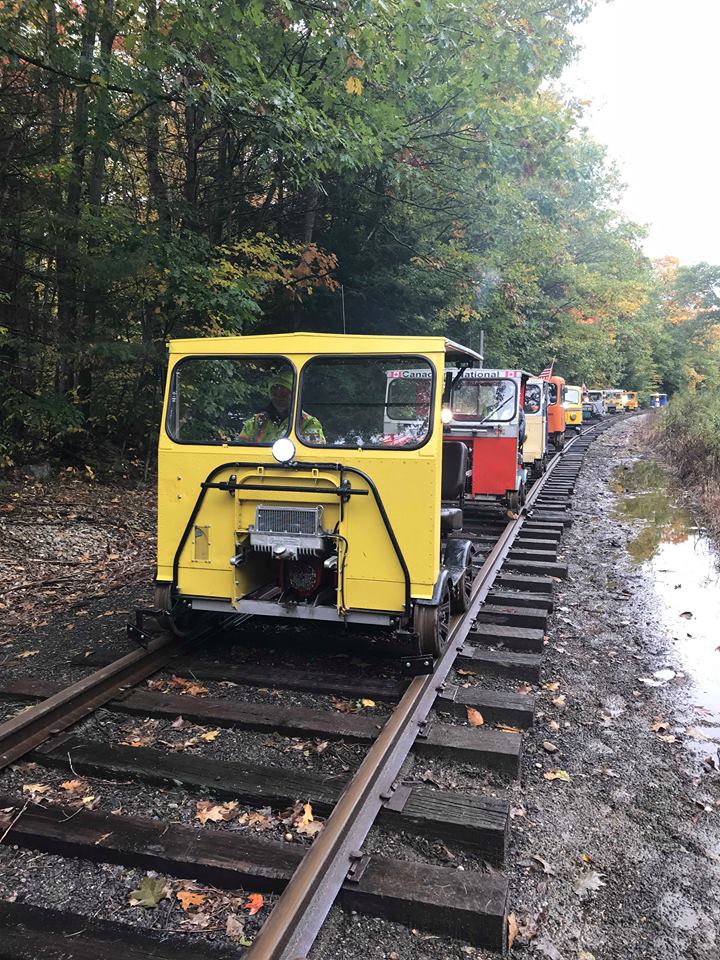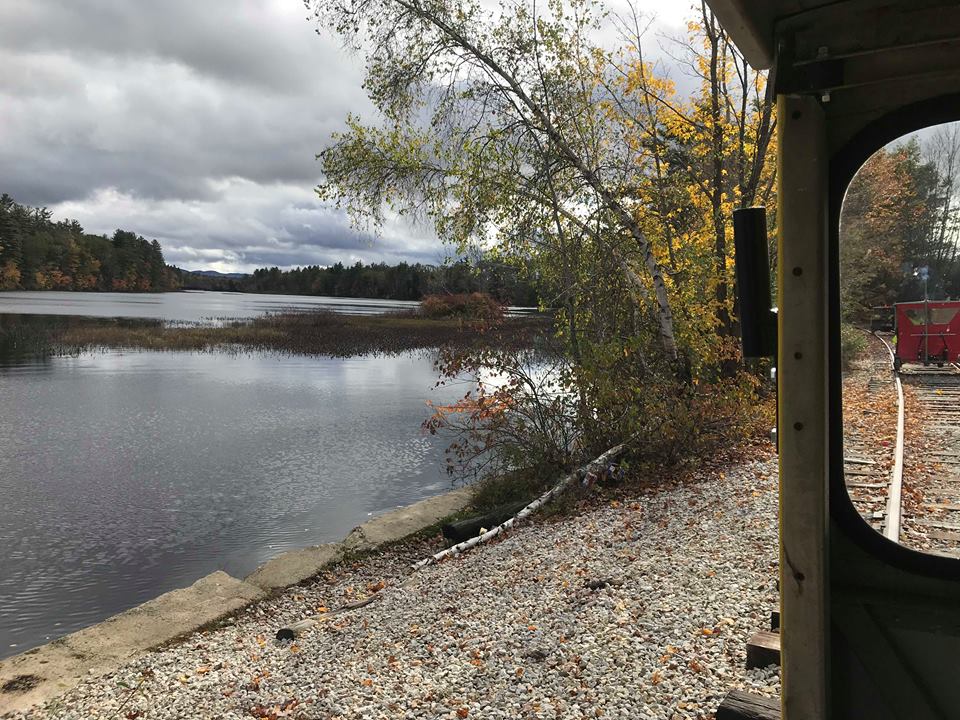 (October 13, 2018) Steve Medlyn reports that the club had a great day on the rails at the Milford & Bennington RR Saturday. From the "feed bag" put on by the Greenfield Historical Society to all the great views to Bennington and back, it was a fun day for all. Thanks to all the participants for a safe and beautiful ride. Thank you for hosting Steve. Please pass along our gratitude to Peter and the RR. Photo credits: Will Scopa. (SPM)
In Memorial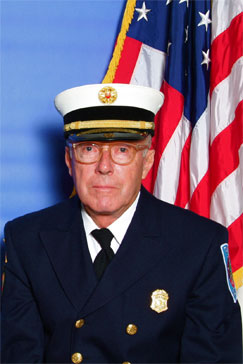 (October 9, 2018) It is with heartfelt sadness that I bring to the membership news of the passing of Dave Bowles. Dave always made it a point to be at any important event or lend a hand with club activities. Whether it was cutting down the trees that surrounded Fernald Station, moving the clubs tractor to my house for repair, using his background as a civil engineer or using his experience with the Veterans Cemetery in helping with the CVRTC Memorial Garden. David wanted to be a part of it all. He was extremely involved with the snowmobile club and several other entities that embraced his involvement. He was very committed to anything and everything. Dave was 84. He didn't believe in slowing down and could be methodical in his explanation of his thoughts on a project. I'll miss those thoughts now. I will apprise the membership of any service and dates. Both David and Mrs. Bowles are, and have been very involved with their church. Rest in Peace David. (BDS)
September Meeting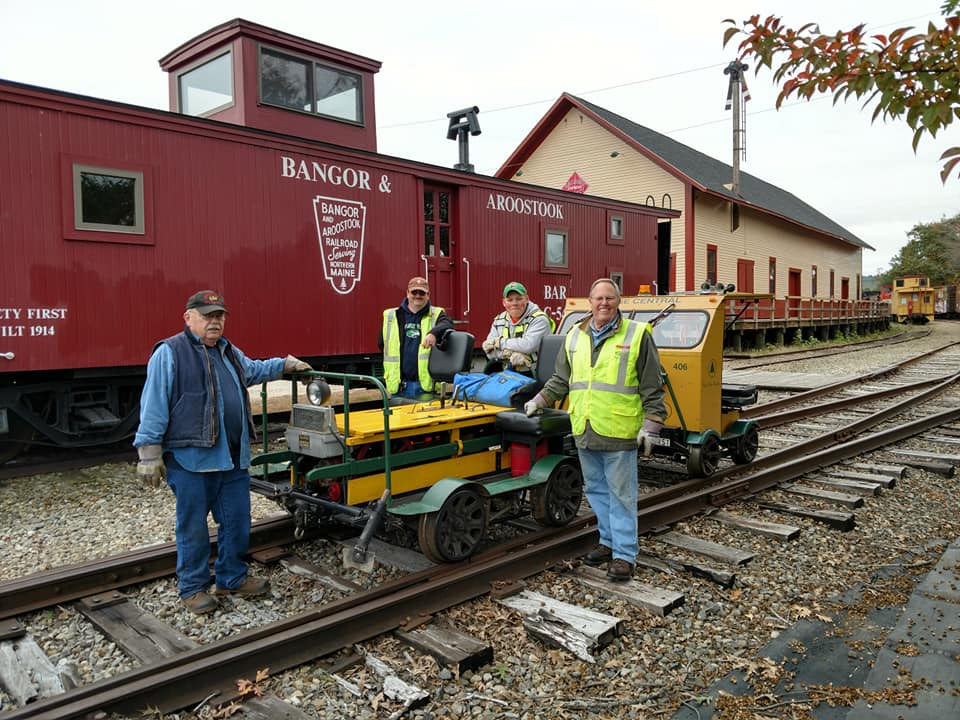 (6 October 2018) Today was a typical fall day in central New Hampshire. It started out with a little fog, and the sun attempted to poke through. With track permit in hand, and a safety meeting, the crew headed out to work. The primary task was to dig out the flangeways at the crossings. The crew finished some cutting in Northfield, and added reflective stripes to the switch targets. In the picture, the guys have stopped in Northfield for lunch at the Tilton House of Pizza. Left to right... Tom, James, Hayden and Frank. Jon took the picture; his trackcar, the only modern Onan today, is out of view to the left. (JWM)
September Meeting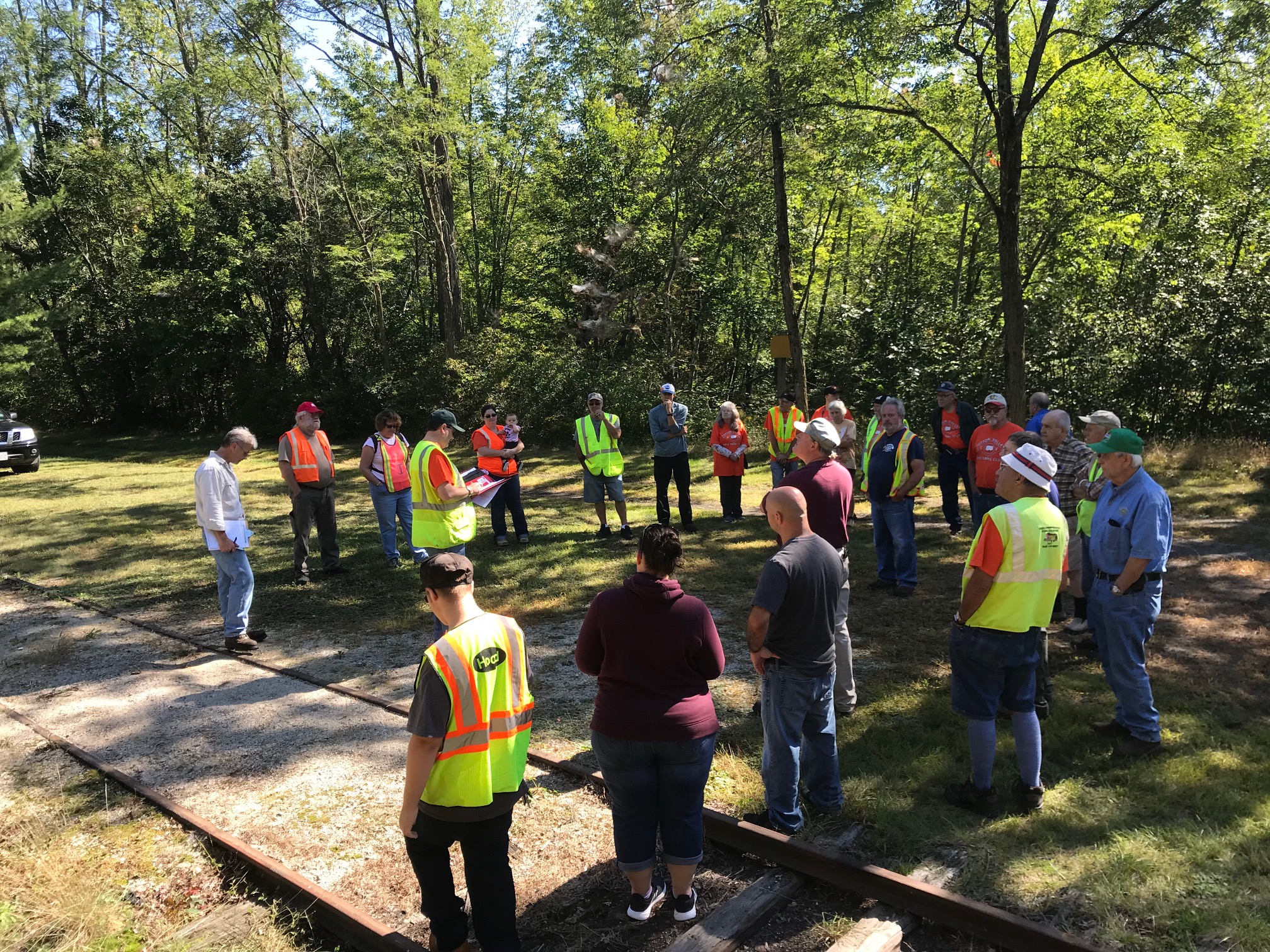 (15 September 2018) Great day for a meeting, especally when your office has four wheels and a wide open view of New Hampshire. Today's meeting was hosted by the Silver Lake Railroad; big thanks to Neil and Bruce for putting this together. To the left, Jesse's picture shows the group during our morning Safety Briefing. Bruce went over the condition of the line, and noted the one dirt crossing that operators had to pay attention to. The line had been mowed earlier this week, and we had already run a track patrol this morning! Members got to make several round-trips between the Siler Lake depot and Boulder Road. The Club will be working with the local snowmobile club to open up more of the line for trackcars. (JWM)
More...
See the archives for postings from 2003, 2004, 2005, 2006, 2007, 2008, 2009, 2010, 2011, 2012
Warning: date(): It is not safe to rely on the system's timezone settings. You are *required* to use the date.timezone setting or the date_default_timezone_set() function. In case you used any of those methods and you are still getting this warning, you most likely misspelled the timezone identifier. We selected the timezone 'UTC' for now, but please set date.timezone to select your timezone. in /home/19/72/2917219/web/index.php on line 177
, 2013, 2014, 2015, 2016, 2017 and 2018
---
CVRTC, Inc.
P.O. Box 417
Wolfeboro Falls, NH 03896