Cotton Valley Rail Trail Club, Inc.

A NARCOA Affiliate Club since 2014

LEGAL NOTICE: Operation of railway equipment, including motorcars, is governed by Federal, State and Railroad authorities. All rail property is owned by someone. Operation of any equipment on or around railroad property is only permitted with permission of the property owner or leasor. CVRTC will assist local, State, and Federal authorities in prosecuting illegal operators of railway equipment. Railway motorcar organizations now exist in most parts of the world. Please contact one of your local organizations. They have access to rail property, equipment information and SAFETY information. They are always looking to promote the hobby/sport and would love to have your help.

The Cotton Valley Rail Trail Club is an association of railway motorcar owners dedicated to performing volunteer right-of-way and rail trail maintenance in New England.
---
May Meeting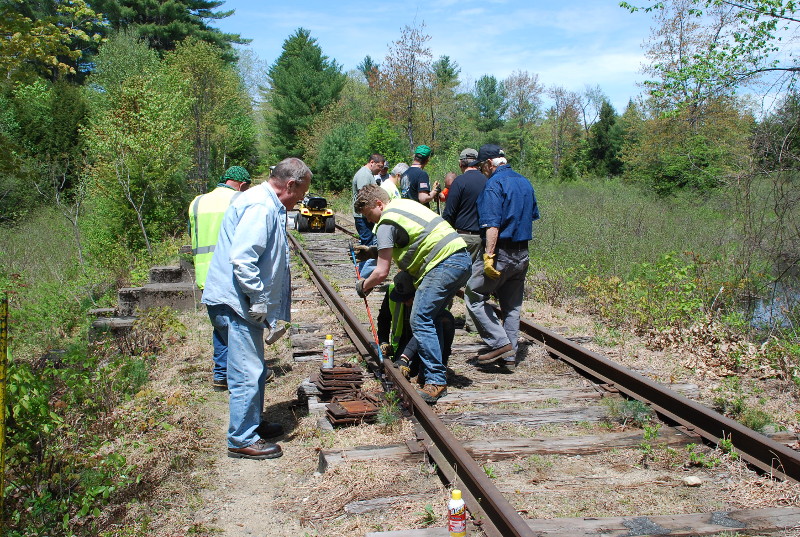 (May 21, 2017) Lots of work getting done today. Repairs were made to the enginehouse roof, wallboarding and mudding progressed in the Fernald Station, and crews went east to Pike Brook to remove rail sections in advance of the State of New Hampshire rebuilding the bridge deck. New sixteen foot timbers will be installed to support the rails, and will be big enough to install guardrails, and still be wide enough for the snowmobile trail groomers. (JWM)
May Meeting
(May 1, 2017) Don't forget that because of Mother's Day, our May meeting is held on the 3rd Sunday. This year, it will be May 21st. Looking forward to a nice spring day. Stay tuned for more information regarding the projects we'd like to get done. (JWM)
Hooksett Model Railroad Show
(April 23, 2017) Norm Yeaton represented the Club at the annual Hooksett Lions Club show. (JWM)
New England Southern
(April 22, 2017) We had our first track patrol of the year on the White Mountain Branch, running up to Tilton, and lunch at the Tilton House of Pizza. Along the way we inspected and marked ties for this summer's tie replacement project, as well inspecting the new crossing at Sewells Falls, and identify vegatation that needs to be trimmed. We also noticed that we should repaint mileposts this year. (JWM)
Happy New Year
(January 2, 2017) Happy New year! We hope you are doing well. The 2017 Cotton Valley Membership Application has been put on the Membership page.

Please fill out, and mail the application, along with a check for $30 to:

CVRTC Membership Secretary
Dennis Heffernan
PO Box 2220
York Beach, ME 03910

Send your application and dues as soon as possible but no later than February 18. Don't forget to indicate whether your application is for a single individual or for a family. Membership cards and rosters will be handed out at the annual meeting.
Please make every effort to send your application/check BEFORE the annual meeting - by February 18 at the latest - in order to allow time to print membership cards, as well as print the roster.
Thanks and we look forward to seeing you at the annual meeting in March. (DH)
See the archives for postings from 2003, 2004, 2005, 2006, 2007, 2008, 2009, 2010, 2011, 2012, 2013, 2014, 2015, 2016 and 2017
---
CVRTC, Inc.
P.O. Box 417
Wolfeboro Falls, NH 03896